Woman-Powered Fashion
Posted by Jen Anderson on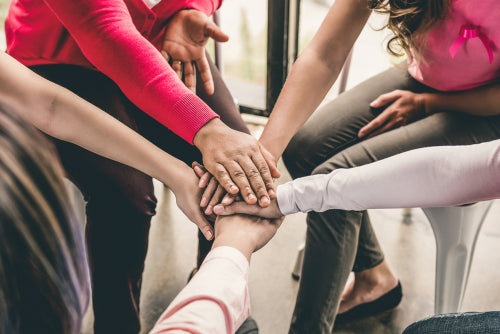 We all know that buying from women-owned businesses (like us!) is empowering for women in general. But it's also a way to empower ourselves as consumers. Because when women are calling the shots, products get designed with other women in mind.
Think back to all the unsatisfactory clothing you've owned over the years. For me there was the blue shirt that bled all over me when I got caught in the rain, pants with waistbands that dug into me whenever I sat down, and pants that wore holes in the inner thigh. And what about the clothes that you rejected in the store - the scratchy unlined wool pants, the wrinkle-resistant shirt that felt stiff and uncomfortable, the long sleeved tee that was see-through because....tough luck, that's why.
These are not clothes designed by someone who might wear them. Those clothes are what you get when someone says, "eh, good enough." But women wear women's clothes. We take uncomfortable, frumpy clothes as a personal affront. How dare that awful garment exist?

Vikki Vi inspires loyalty because we wear the clothes ourselves and we listen to our customers. We offer high and low necklines because we've been asked for both those things. But a neckline so wide that your bra straps peek out? We know better. We also look at past sales when deciding which pieces to include in a particular collection - you're telling us what you want without saying a word.

These days womenswear tends to be comfortable and available in a greater range of sizes. Why? Because there are more women calling the shots. We're dressing for ourselves and for men. Every few years we'll see an article about all the women's fashion trends men don't like, and women respond with a resounding, "so?"
Don't be shy about letting us know what you'd like to see in future collections. We want to hear it. We're designing these clothes for you, after all.

But let's make this conversation about me, shall we?

I'd like to know what you want me to write about. Comment with some ideas, or even just mention the type of posts you've liked in the past and want to see more of. Ask me anything. If you'd rather tell us privately, email us at customerservice@plusbydesign.com. To give you some ideas, here are the 5 posts with the most traffic at the moment.
Plus Size Job Interview Outfits
Style Tips for Inverted Triangle Shaped Women
Shopping Tips For Short Waisted Plus Size Women
Stop Cursing Your Hips: Style Tips For Pear Shaped Women
Let me know what your greatest fashion challenges are, or life challenges that fashion might help with. You know I'm a firm believer in clothing as social armor. Chances are that you're not the only one with that issue. If you're looking for an outfit that you can wear to your cousin's third wedding where you're sure to see that aunt who can't go three minutes without mentioning her diet, I've got your back. 
We've just gotten some stuff that we know you're going to love, so....
3 Comments