Shopping Tips For Short Waisted Plus Size Women
Posted by Jen Anderson on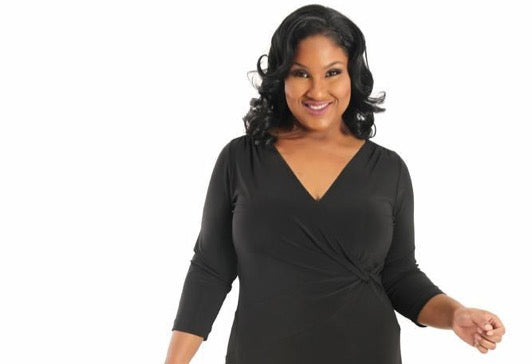 People come in such a wonderful variety of sizes and shapes. Unfortunately, this can make getting dressed an exhausting hassle. We each have to know our height (petite, regular, or tall), shape (apple pear, etc.), skin undertones (warm or cool) - and that might not be enough. You may be short waisted or long waisted. If you've been doing all your homework, but still struggle with fit, your waist may be longer or shorter than average. Or maybe you know that you're short waisted, but you're not sure how that should affect your wardrobe.
We'll get to the long waisted ladies in a future post, but now let's get into short waists and how to dress them.
How Can I Tell if I'm Short Waisted?
Put the measuring tape away. Australian Stylist/Blogger Imogen Lamport has an easy trick to figure this out. First, find your natural waist by bending to the side. That spot where your body creases as you bend? That's your natural waist. Next, place one hand on your torso right below your bust. Then place your other hand below it.
A balanced torso has two hand widths between the bust and the natural waist. Less than that and you've got a short waist. More and you're long waisted.
Which Styles Work Best on Short Waisted Women?
An empire waist dress or top is going to fit you really well if you have a short waist. That's because an empire waist is meant to hit you below the bust instead of the waist, so the length of your waist is a non-issue.
A top, jacket, or dress without a sharply defined waist also works well on a short waisted woman because there's no waist shaping that will hit you in the wrong spot. This includes a-line tops and dresses as long as there isn't waist shaping.
Most Vikki Vi Classics don't have waist shaping. If you're looking for empire waists, our Jersey collection has a Cross Over Tunic and Faux Wrap Maxi Dress. 
What Styles Should I Avoid?
Wide belts will look like a corset on you, so you may want to stick with narrow belts. High waisted jeans will have a similar effect. I wouldn't be concerned about how these look as much as how they'd keep you from bending at the waist. I'm short waisted and wear wide belts on occasion - I just have to remember what I'm getting into.
Dresses with a waist seam may ride up and leave you with excess fabric above the waist. 
But what about?
Most of the other advice out there about dressing a short waist is focused on making our torso look longer. Which sure, an empire waist can make your waist look longer. But when did you ever look at someone and notice the length of their torso? There's nothing wrong with having a short or long torso, so there's nothing to conceal. This is about fit.
When your clothes fit properly, they're more comfortable. People do notice ill fitting clothing when they should be paying attention to the clever things you're saying, so it's a little bit about appearance, but not in the sense of creating illusions.
9 Comments