The Plus Side Guide To Being Ready For Anything
Posted by Jen Anderson on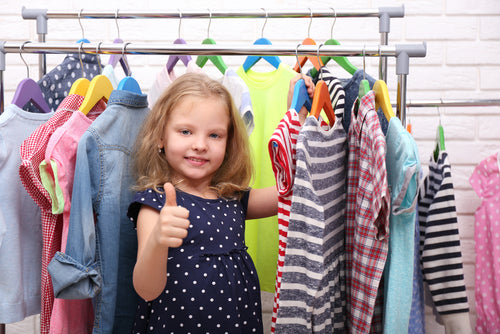 There's this silly cliche about women standing in front of overflowing closets and saying that they have nothing to wear. And sure, sometimes a woman's closet is stuffed full of stained, out of style pieces that don't even fit anymore. But usually what we're really saying is "I don't have anything to wear that's appropriate for where I have to go and who I have to be today."
We all have a work wardrobe, and some casual clothes for the weekends, but any time we deviate from our usual routine those outfits may not cut it. It's easy to forget that there's more to life than our usual schedule. Life goes on for weeks, we're on top of everything, and just when you think you're finally getting the hang of this whole being an adult thing, bam - life happens.
I'm talking about parent-teacher meetings, job interviews, weddings with dress codes ranging from beachy to formal, swanky events like a bridal shower at a country club, smart casual events like a bridal shower at a local catering hall, and yes - funerals. 

If your wardrobe is ready for anything, when one of these events comes along you can check your schedule, shop for a gift, or prepare for the meeting. If your wardrobe can only handle your usual routine, you're going to panic and focus the emergency clothes shopping you have to do. 

Let's think about the different situations we each need to be ready for so we can identify the gaps in our wardrobes. 

Funerals

Death is a part of life and we don't like thinking about it. I'm not suggesting you keep a funeral-only outfit on hand. You just need something that would be appropriate for a funeral. Black, gray, and navy are good funeral colors. Black and white prints also work. Having an appropriate dress or pants/top combo on hand will let you focus on your loved ones.
I'm starting here because a serious funeral outfit can work in a lot of situations, so having one goes a long way towards being ready for anything. This outfit can function like a Little Black Dress - you'll be able to wear it just about everywhere.
Professional Plus

Job interviews, client meetings, parent-teacher meetings, testifying in court - these events are when you need to kick your work wardrobe up a notch. Your funeral outfit may work here.

There's a lot of variation here. For a job interview you want to dress like you fit into the company's culture. But if you're a realtor meeting a potential client, you can let your own personality shine through with prints and bright colors.

Swanky and Smart Casual

You need a swanky outfit and a smart casual outfit for events like a company party, dinner at a fancy restaurant, or any event at a country club, golf club, or catering hall. (The fanciness level of the venue will determine if you need to dress swanky or smart casual.)

All you need to do is throw a fabulous top layer over your funeral outfit or LBD. For smart casual, a print jacket or cardigan will do the trick. For swanky, go with a kimono robe, duster, sheer topper, or velvet jacket. Don't forget the shoes.
And Now, The Shopping
Now that you've figured out which pieces of clothing you don't have but are going to need at some point, start shopping for them. Keep an eye out before you urgently need these pieces and you'll be able to catch a sale or snap up something fabulous. Fill in the gaps of your wardrobe and you'll never have nothing to wear ever again.