The Plus Size Guide to Looking Professional Without Melting
Posted by Jen Anderson on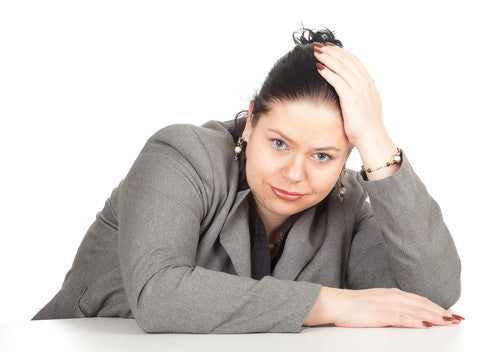 Dressing for work in Summer is challenging to say the least. If you dress for overzealous air conditioning, you'll be too hot outside the office. And sweaty is not the look you're going for as you arrive to work - especially when you're plus size. If you spend the day on the go, you can dress for the weather but it's difficult to find clothes that keep you cool while still looking polished.
The solution is to modify your existing work wardrobe to accommodate the hot weather. Slight changes are the way to go. Think shorter sleeves or bare arms. Think about showing just a little leg. You'll be fine as long as you stick with high quality fabrics that can't help but make you look put together.
Of course, you'll still freeze if the office air conditioning is set to arctic. This is a perennial battle between men and women. Men are too hot at work because they wear the same exact clothes regardless of the weather. The women (and the environment) shouldn't have to suffer because they haven't thought to roll up their sleeves, buy thinner socks or get some suits in summer fabrics. Just tell the boss that a less freezing office will save the company a ton of money, and you may just win this one. If not, I've found that hot herbal tea throughout the day works wonders.
Speaking of Summer Suits...
Your work wardrobe probably mostly consists of suits you've put together from separates. In the Summer, all you need to do is change out some of the pieces.
Our Silky Classics, Jersey Classics, and Brushed Jersey Classics are lighter weight than our usual Classics.
Crop pants are perfect for this. They don't show so much leg that you'll look unprofessional. But that little bit of exposed skin helps you keep cool. And you're much more likely to wear sandals with them - uncovered tootsies are sure to keep you cool.

Shorter sleeves also make for a great summer suit. Wear a camp shirt instead of a long sleeved jacket and you'll be much more comfortable. 
Don't Forget About Dresses
Mini-skirts may not be your thing (they're certainly not mine), but your hemline can still creep upwards in the Summer. Try a knee length flip skirt instead of a maxi skirt. Or a knee-length sleeveless shift dress instead of a maxi tank dress.

If you want shorter sleeves to go with the shorter skirt, then our t-shirt style dresses are your new best friends. The hemline isn't too short and neither are the flutter sleeves. The scoop neckline is a classic summer look. The t-shirt inspired silhouette is relaxed enough for casual days, but polished enough for work.
You Deserve a Summer Wardrobe
Even if those stubborn guys at the office refuse to dress weather-appropriately, you can still mix things up. I'd weep from boredom if I had to wear the same few pieces all year round. Having a seasonal wardrobe means I get to feel like I've just gone on a shopping spree every time I switch out my cold weather clothes for warm (and vice versa). Not looking like I've just had an hour-long hot flash is just a bonus.