How to Wear Neutrals Without Looking Blah
Posted by Jen Anderson on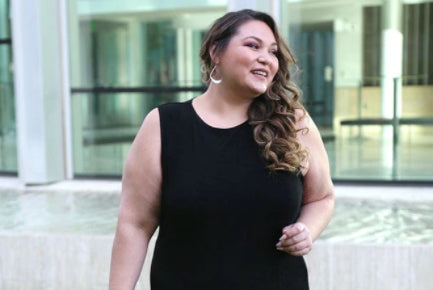 Neutral colors should be so easy to wear. They go with pretty much every color you can think of. And each other. Yet many of us have a fraught relationship with neutrals.
The problem is that not all neutrals are created equal. I can't stand beige. Don't know why. I just took against it in the 80s and haven't looked back. In my eyes, beige is inferior to other shades of brown. Give me a nice tan. Or (swoon) camel. But beige? Blech.
And then there's black. I used to have a pair of black pants for every day of the week. Eventually I branched out into brown and gray, but it took some serious wardrobe fatigue for me to even consider it. Black is so chic and gets along with other colors so well that I simply didn't see the need for other neutrals. 
But plus size women also have complicated feelings about black. We're told to wear black because it's slimming. This is not true, yet we have a long history of wearing black to apologize for our size. That's not chic - it's just depressing.
Improve Your Relationship With Neutrals
The difference between Chic Black and Apology Black comes down to the exact shade and the material. A dark black in a high quality fabric is stylish while a lighter, blander black in a cheap, limp fabric is meh. Listen to your gut and you'll be able to tell which is which.

Once you've decided that only the best blacks are worthy of your closet, make friends with some other neutrals. Maybe rich Olive calls to you. Or a pale brown like Cappuccino might be your jam. And who doesn't love Navy Blue and Cool Gray? It's easy to mix and match, yet it seems like advanced fashion, so it makes you look like a fashionista. You may find White compelling. And who could blame you? It's so luxe. 
Don't forget prints in neutral colors, like navy &ivory or black &white. They go nicely with the brightest shades.
Stay Neutral
Sure, you can pair a neutral color with another, bolder one. Everyone does that. But why not wear all neutrals? After all, they go with each other as well as they do with bright shades. 

You're probably uncertain about wearing black and brown together. I used to have the same reservations. But that really just depends on the shade of brown. Trust your judgement on this one.


But, what about black and navy? That depends on the shade of navy. If it's so dark that you can't quite tell if it's black or navy unless every light in the room is turned on, then no. It'll just look odd. But if the navy is a touch lighter than the black, you're good to go.
Or you could stick with one neutral for your whole outfit. It makes for an extremely chic look.  

Head to toe Black looks oh so tasteful. All White makes you look relaxed and ethereal. All Navy shows that you mean business.
You can use your neutral, monochromatic outfit as a backdrop to your boldest, most colorful statement jewelry. Or keep the accessories minimalist to make the look even more understated.
It's All About Attitude
If you're wearing neutral colors because you want to fade into the background, then even the most stunning shade isn't going to look great on you. But if you want to stand out, then a neutral outfit can have as much impact as bright Red or rich Royal Blue. 
1 Comment