How to Dress Your Newly Plus Size Body
Posted by Jen Anderson on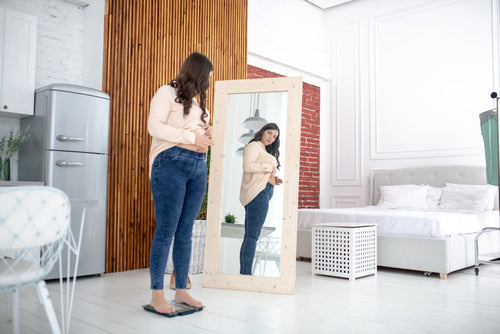 We're all one illness, knee injury, or global pandemic away from being forced to reduce our physical activity. Which can mean weight gain. Or you've had the good fortune to grow older, and your metabolism has slowed down. Or you're on a new medication that causes weight gain. Or maybe you've turned your back on the futility of dieting. And now you're a bit lost because shopping for plus size clothing is anything but straightforward. Well, your Auntie Jen is here to show you the ropes.
 You may need to ignore your instincts.
When you've had a lot of trouble finding clothes that aren't too small for your body, you may be tempted to wear clothes that are way too big. It's such a relief not to wear clothes that cause physical pain. If you've been freaking out over your new size, you may want to hide in big, shapeless clothes in dark colors. 
Don't do that. Oversized clothes aren't going to make you feel (or look) any better. Instead, go for a relaxed fit - clothes that skim your curves.
Vikki Vi Classics
are designed to show your shape without clinging or pulling.
I can hear you saying, "But Jen...caftans." Yes, caftans are voluminous, but it's a deliberate, thoughtful volume. Caftans have a shape. Unlike the big, boxy tees I wore back in the 80s and 90s. I want to say, "what was I thinking?!" but I know exactly what I was thinking, which is why I'm hoping you will learn from my mistakes.
You have a lot to learn.
I know. It's stressful and overwhelming and frustrating. But once you figure out what styles are your new best friends and which brands have what you're looking for, it's easy. You don't believe me here. Not even a little. But lemme tell you about my friend Kate Prouty.
Kate discovered this blog when I shared a post on FB. She ended up reading a whole bunch of posts about how to dress her shape. She took a few weeks to psych herself up, and then sent me a bunch of photos of pieces she was thinking of buying. There was only one skirt that I didn't think would work on her. Everything else was perfect. I was so proud. 
Lesson #1 - You want clothes that will work with your body's shape.
The right silhouettes won't be too big in one spot and too tight in another. I often talk about pieces leaving room for our hips or our middles. Trying to hide certain body parts isn't going to get you anywhere good. Not all styles are meant for all bodies and that's OK.
 Lesson #2 - There is nothing wrong with your body. You're bigger than you used to be - and this is a morally neutral situation. I'm not asking you to wear a bikini to the beach, but consider not hating your body. 
Lesson #3 - You need to know your measurements. I know this is hard, but pretend there is a small child in the room and you don't want to give them a bunch of hangups. Women's clothing sizes make no sense, so your measurements will help you figure out which sizes you need in various brands.
Lesson #4 - You can ask for help. Give us a call at
818-223-8853 or send us an email and we can help you figure out which size to order or which styles you'll be happiest with. Don't be shy. We really like this part of the job.
Lesson #5 - It helps to know your body shape.
Some magazines and websites treat plus size like a body shape. They are wrong. If you were pear shaped 20 pounds ago, you're pear shaped now.
Lesson #6 - There's no point in trying to hide. Dark colors aren't going to help you fade into the background, or look smaller.  Why should you do that anyway? You're fabulous. If you like bright colors, then wear bright colors. If you love basic black, then wear it because it's chic.
Becoming plus size isn't the end of the world.
In fact, it's the beginning of a new life filled with cute clothes and a delightful disregard for society's expectations. I've linked to some helpful blog posts above, and right below this paragraph. Dive in and feel free to ask questions. Just know that you've got this.
1 Comment