The Plus Size Guide to Self Care
Posted by Jen Anderson on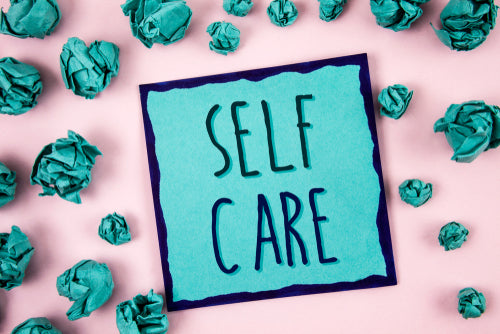 Somehow self care has gotten a reputation as something self indulgent. We say self care and think of long candlelit baths. Your BFF tells you that you've been neglecting self care and you insist that you'll get to it when you have the time. But your bestie isn't telling you to schedule a spa day. Self care is really just basic body maintenance.
Grooming
Sure, self care does involve quite a bit of making yourself pretty. Or, you know, professional and put together. Giving yourself a manicure sounds like a luxury, but that assumes that walking around with ragged, scraggly nails is the baseline. Grabbing a nail file so that your nails aren't constantly catching on things is self care.
Think of self care as making sure you don't look like a hot mess when you leave the house - whatever that means to you. I'm talking about regular haircuts, unscuffed shoes, and clothes that fit you properly.
Speaking of which...
Wardrobe
If getting dressed every morning is an ordeal, you've probably been neglecting self care. You need to own enough weather-appropriate clothes that you can come up with a week's worth of outfits without wailing and gnashing your teeth. Self care means providing for yourself so that you're not pulling your hair out over something so basic. 
You may have an overflowing closet, but wear the same three things over and over again. That's because you're holding on to clothes that don't fit your body, or your current lifestyle. If you can't wear it today, then it belongs in storage. The more you've been neglecting your wardrobe, the more shopping you're going to have to do. It's actually less overwhelming and takes less effort if you do a little shopping every month.
Unless you have the time, energy, and budget to shop til you drop on a regular basis,  you'll want versatile classics that you can wear in a lot or different situations.
Vikki Vi Classics
are perfect for this. You can mix and match them, dress them up or down, you know the routine. And since they last a really long time you won't need to shop for more clothes if you don't want to. And we have
new colors every month
 so you can easily expand your wardrobe.
Tend to Your Nooks and Crannies
You perform regular maintenance on your car so it won't break down, and you need to treat your body the same way. Brushing and flossing is just as important as taking your car for an oil change. Washing your hands as soon as you get home can keep you from catching every cold that comes along. Taking your time when drying off after a shower, and applying powder in all those places that tend towards dampness (the underboob area, the undertummy, etc.) can prevent rashes.
Regular checkups and dental appointments are definitely a part of self care. I know, I know.
Going to the doctor when you're plus sized can be an ordeal
. Do it anyway, and demand they explain exactly how losing weight will cure your strep throat (spoiler alert: it won't). Learning how to stand up for yourself is also self care, and medical appointments certainly supply plenty of opportunities to practice.
Self Care Comes Down to Self Respect
We usually end up neglecting self care because we put everyone else ahead of ourselves. But here's the thing - when we do that, we're teaching our kids and grandkids that they should put themselves last when they grow up. If you have trouble taking care of yourself for your own sake, then do it for the example you're setting.
Regularly updating your wardrobe is self care, so Check Out New Arrivals.