Customer Spotlight: Kate Prouty
Posted by Jen Anderson on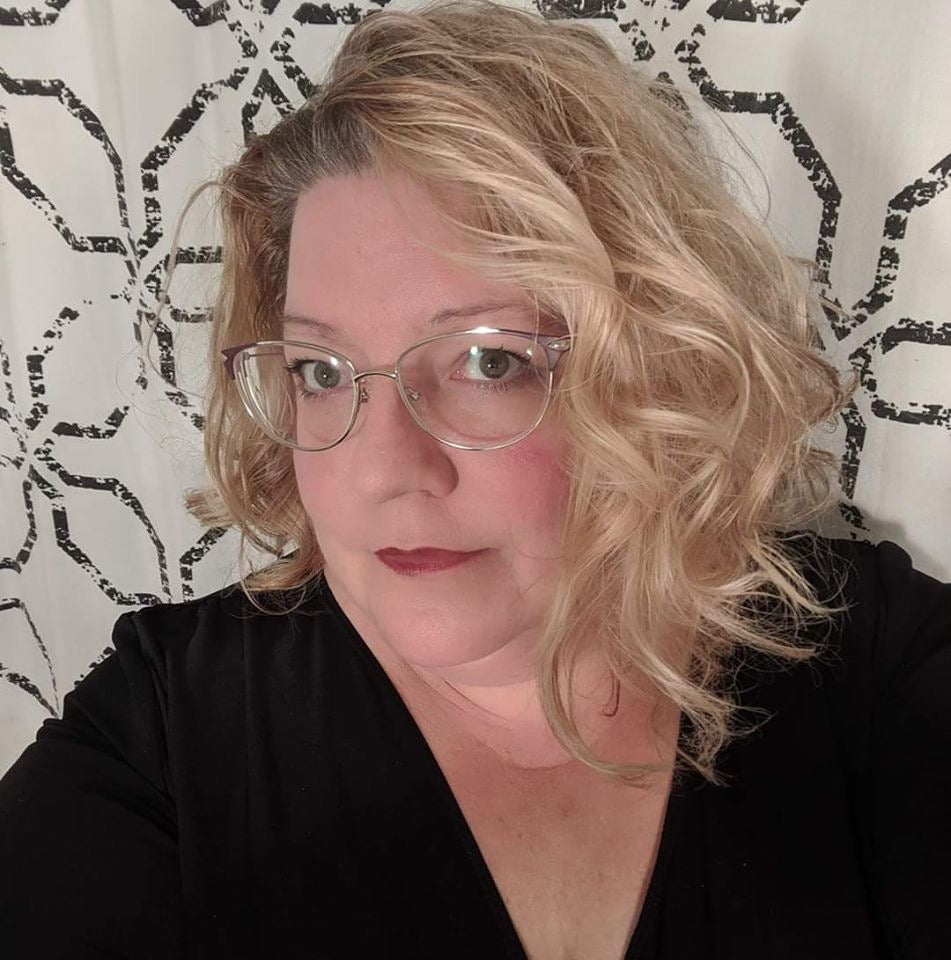 Kate Prouty is kinda awesome. But until recently, her wardrobe didn't reflect that. We can all understand how that happened - when you're starting over after a divorce, working as a professional flutist, and building a massage therapy business from scratch you tend to neglect self care. And since plus size clothes shopping can be such an ordeal, of course that gets put on the back burner.
Kate and I have been Facebook friends for ages. Earlier this year, she discovered this blog via one of my FB posts. It was one of my posts about women who are oval-shaped.
"It is literally the first time that I have ever read anything where it spoke of the positives of someone my size and shape rather than just about the things I should be hiding," she said. "It stopped me in my tracks. I realized that yes, I do have awesome legs. That I do have beautiful shoulders and some pretty good cleavage. I realized that these are things worth showing off and enjoying. When I read that [Jen] recommended clothing that 'leaves plenty of room for your belly' I was shocked because I have never thought about leaving room for it, only hiding it. It was a revelation."
We had a lot of fun as she sent me photos of pieces she was thinking of buying. I was so proud of her - almost everything was exactly the right shape for her. She was unsure about sizing so I got her to call our personal stylists. 

"I sent in my measurements, my height, and a description of what I was hoping for, and I got suggestions back that at first I didn't trust.
I've never actually felt comfortable in clothes that didn't just billow around me, and was tempted to order everything a size larger, but the Vikki Vi advisor said not to do it.

"I was so nervous when I tried the clothes on after I got them in the mail that I was sweating. But I put on the dress, and something magical happened. I looked pretty. I felt pretty. The dress swished around but didn't billow. The top flowed beautifully and showed off my curves without looking like a tent. I put on this duster with jeans, and my teenage daughter came in and kind of squealed, 'Can I borrow it?'
"Buying from a company that not only understands women my shape and size, but values me? I've never had that experience before."
Kate's massage therapy business focuses on people with cancer and chronic illnesses like fibromyalgia. She studied how to work with these clients' unique needs at the Mayo Clinic. So when it comes to clothes, "I really need something that shows that I am responsible and educated, worthy of trust while still being comfortable enough to move in."
Kate's current favorite piece of clothing: "The long patchwork [Oddi] duster. Every single time I've gone out, somebody has commented on how much they like it. And it has pockets!"

Her all-time favorite: "I had this beautiful white cotton dress when I was about 20 years old. It was short-sleeved and it buttoned up the front and it had an almost off the shoulder boat neck. The skirt was full and fell below my knees, and it was so pretty. The big open neck with a deep scoop made me look like I had a longer neck than I do. The crisp whiteness of the cotton made my skin and hair color look wonderful. The waistline was a little higher than the natural waist, and it had a wide belt made of the same fabric. I wore it everywhere I got a chance."
Kate's fashion tip: "I come from a family of artists, and I learned that if colors look great together in a painting, they work together in decorating. So I apply that to clothing. If colors look great together in a print, they will look great as separates in the same outfit."

Shoes, handbags, makeup, jewelry -- what's Kate's jam? "JEWELRY. My parents and sister keep me well-supplied. I am partial to lonnnng necklaces with big pendants. I like the feeling of wearing an amulet or something significant to me. I have a gorgeous faceted rock crystal set in the center with a diamond set in platinum from my grandmother. Very Art Deco. I love rings with BIG honkin' jewels (real or not), and glittery dangly earrings. But I don't wear them all at once." 

Fun fact: "Several years ago, Dan Powers, the composer in residence of the Terre Haute Symphony Orchestra composed a concerto for me! I got to perform the world premiere of "Concerto Piccolo" (for piccolo, obviously) in March 2008."

Final thoughts: "After getting divorced 2 years ago, my world has expanded by leaps and bounds. I went from feeling like a gray rock to a sparkling, powerful woman. I feel like fashion has been one of the last holdouts in my progress. I have two teenagers (one in college, one a junior in high school), and they think it's pretty awesome that their mom is feeling cute and happy."


3 Comments