How To Dress Well When Your Weight Fluctuates
Posted by Jen Anderson on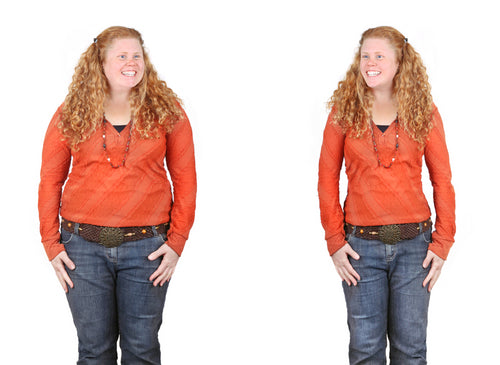 Raise your hand if you've ever decided that you can't spend "too much" on clothes because you were going to be a different size before long. Yeah, me too. Your weight is affected by a lot of things. It could be medication, a medical condition, a diet, or a new fitness regime. Weight goes up, weight goes down - this is life. We all know how lousy it feels to be stuck wearing ill-fitting clothing, especially to the office. There's gotta be a better way that doesn't involve spending a fortune.
 Seasons Of Life
I categorize my coats and jackets by temperature - one is for 60-70 degree weather, another for 40-60 degrees, one for anything below 40 degrees, and a bunch of light jackets that are more about completing an outfit than warmth.
We don't get rid of our winter coats in the spring. We pack them away to make room for our warm weather pieces. And yet when our weight changes, we give away all our clothes that don't fit anymore.
But the only constant in life is change. One knee injury and you may be spending more time on the couch than usual. The doctor could put you on a different medication. You might start walking two miles every morning to help a friend get out of the house. It's so much easier (and cheaper) to pull out a storage bag of clothes than to buy new ones.
Of course, this assumes your clothes are classic styles. Though it may be worth holding on to trendy pieces just in case - cold shoulder tops (for example) have remained in style for several years, and 3/4 sleeves are a trend that became a classic.
Strategy
That doesn't mean you need a completely different set of clothing for each 10 pound increment on the scale. Some styles have more wiggle room than others.
Clothing with a relaxed fit (such as Vikki Vi Classics) can accommodate weight fluctuations. You can gain or lose 2-3 inches and still wear the same size. I'm also a big fan of elastic waistbands for obvious reasons.
Accessories
You can cinch in a too-big dress with a belt. You know that and probably never do it because "creating the illusion of a waist" requires "relinquishing the ability to breathe". But you can wear a belt right below the bust, creating an empire waist effect - the excess volume becomes part of the style.
You can also pull all the excess material to the back and hold it in place with a safety pin. It's a trick that stylists use for photo shoots and store mannequins. Slip on a jacket to conceal the pin and no one will know. I don't recommend doing this with our Classics (too stretchy), but it would work well with our Jersey Classics.
Repurpose
I have a small collection of too-tight tops that I layer underneath other pieces. I don't mean under a jacket that would reveal how tight the top is across my chest and middle. I mean under a sundress with spaghetti straps where the tight bits are concealed by the dress, and my bra straps are hidden by the top.
Too-big tops are great for sick days on the couch, or when you don't want clothing rubbing against a sunburn or stitches.
Respect Your Clothing
You put a lot of effort into buying clothes - and working so that you can afford lots of great clothes. It makes more sense to buy the nicest pieces you can afford and keep them around than to buy the cheap stuff. Even when you're not sure what your weight will be in six months.