Which Vikki Vi Size Am I?
Posted by Jen Anderson on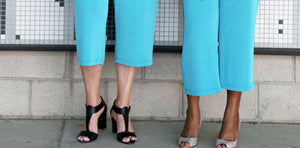 You don't need me to tell you that women's clothing has a sizing problem. Every brand has a different definition of 2X, and sizing charts can be big ol' liars. You've been betrayed before, so it's hard to trust any size tag. I can't help you with all the clothes everywhere, but let's talk about Vikki Vi Classics.
Vikki Vi Classics are designed to have a relaxed fit, but not a baggy one. If you try on a 3X and it seems too big, that doesn't mean a 2X will be close-fitting.
Get Out the Measuring Tape
You're going to have to measure yourself. Yes, I know exactly how much you don't want to do that. Do it anyway. You can even measure yourself by doing the twist. Position the measuring tape around your waist, hips, or bust and then twist back and forth until the measuring tape is in the right spot. It'll easily go to your natural waist. For your hips and bust, twisting will help you find the fullest part. This isn't going to be super accurate, but because our clothes have a relaxed fit, close enough is just fine.
For pants inseam, you can get away with measuring a pair of pants you already own that are the right length for you.
Which Size?
First up, our handy, dandy size guide is accurate. We've been making the same classic styles for years from the same patterns. So no surprises. Those numbers reflect the size of the garments when unstretched. Each size is about four inches larger than the last. You want to pick the size that's just a bit larger than your body measurements. But not much larger.
If your bust is 48", which is the exact bust measurement of the 1X, the 2X will be too big. Our signature fabric is stretchy, so it won't be too tight if your measurements and the garment's measurements are the same. 
But, of course it's not that simple. We don't all carry our weight in the same place (and that's not only a plus size issue). So the 1X is 48" in the bust and hips, and 35" at the waist. If you're apple shaped, you may have a 48" bust, but a 40" waist. If you're pear shaped, you may have 50" hips to go with your 48" bust. So select the size based on your most ample area.
How Long?
If you're shorter than 5'3" or taller than 5'8", you look at descriptions like "knee length" and laugh. We have versions of our Pull On Pants in regular, petite, and tall lengths, but for everything else your height determines how long it will be on you. 
Here we have 6' Monica on the left and 5'6" Allegra both wearing Crop Pants.
That's quite a difference. So here's how our different skirts and dresses will fit you. (Petite is 5'3" and under, Regular is 5'3" - 5'8", and Tall is 5'8" and over.)  
Maxi Skirts &Maxi Dresses are ankle length on Tall women, meaning that your ankles may show. On Petite and Regular height women, the hem will be closer to the tops of your shoes, but you won't be stepping on the hem.
The T-shirt Dress is almost mid-calf length (midi) on Petites, below the knee on Tall women, and somewhere in between for Regular height women.
The Flip Skirt is almost mid-calf for Petites, just below the knee for Regulars and at the knee for Tall gals.
The Sleeveless Shift Dress is well below the knee for Petites (but not quite midi), below the knee for Regular height women and just at the knee for Talls.
The Trumpet Skirt is almost ankle length on Petites, midi length on Tall women, and in between for Regular height women.
OK, But
If you're still not sure which size you should order, please ask! Hit us up on our Contact page and we'll help you figure it out.
Now that you know your size, Shop Classics now and marvel at how easy it is to shop when you know which size to order.
2 Comments