Plus Size Date Night Outfits
Posted by Jen Anderson on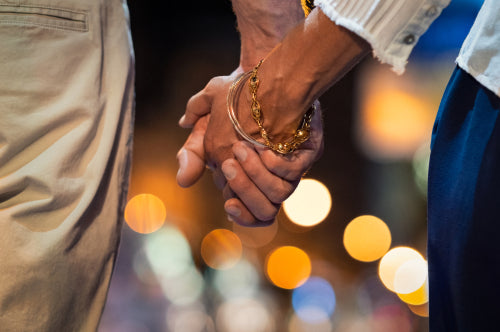 You've finally scheduled a night out with your longtime love. You have reservations at a nice restaurant, tickets for a show, or spots in a cooking class. It's time to reconnect and remind yourself why you liked your partner in the first place. And for some women, it's time to panic about what to wear on date night because they didn't even think of that until two days before the big night.
But you don't need to worry because you have a closet full of versatile clothes. You can whip up an outfit in five minutes. And if you can't, then we need to talk because last minute shopping is how we end up with clothes that are just OK. You deserve better than that.

The Perfect Date Night Outfit

You want to be able to wear your date night outfit again, and not just on date night. If you only wear a dress two or three times, the cost per wear is astronomical. It should be something you can throw on for a party or girls night out. The outfit has to make you feel like a million bucks. When you put some time into finding the right outfit, you'll know that you're worth the effort.

It might show a little more skin than you usually do. A Deep Scoop Neck Top or knee-length skirt can take the rest of your separates from businesslike to flirty. But you can stay covered and still create a romantic look.
And speaking of romance, you really want to wear an outfit that doesn't require shapewear. Yes, I know. Mother Gravity has come calling at my place too. And sure, maybe you just want some shapewear to create a smooth line. And comfortable shapewear exists. You do you. But I've spent too many evenings distracted by my underpinnings. They're too tight, or the top is about to roll down, or when it comes off my skin is covered in red marks. This is no way to spend a special evening.

Let's Get Specific

Now that we know what we want, let's narrow down your many options. I like to wear a print for date night. Prints can let your personality shine through. Whether you go for subtle florals or bold colors, there are some prints that you may not want to wear to work, but you love to wear them outside the office. It could be a print dress, a print top, or a Topper/Novelty Jacket. When you fall in love with a piece of clothing at first sight, but don't know where you'd wear it - that's your date night outfit.

If you'd rather stick with solids, go for your favorite colors. What sets your heart racing? Is it Red? Emerald? Eggplant? Black? Date night is the time to wear a color that makes you smile every time you see it.
Plan Ahead
You're going to have a date night eventually, so you should have an outfit or two ready to go. That way you won't have to worry about what to wear. And being prepared lets you be spontaneous.