Tall Plus Size Shopping Tips
Posted by Jen Anderson on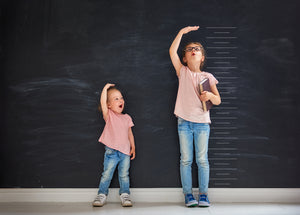 Tall Plus sizes may be even scarcer than petite plus. Though some designers assume that as our sizes goes up, so does our height, so you may stumble across some pieces that are long enough for you among regular plus sizes. But it takes more than luck to build a wardrobe.
Figure Out Which Lengths Work For You
Different length skirts will hit you in different spots. You'll be happier and more comfortable in some lengths than others. You probably have a skirt that's just the right length. Lay it flat on the bed and measure it. That's the length you should be looking for.
Figure Out Where Your Height Is
Here's the thing. If you're evenly proportioned, then your torso and legs will be longer than average. But what if you're not? You could be long waisted with regular or even petite length legs. That means that Tall pants may not be right for you. If you have trouble finding pants that fit your properly, then get a friend to measure your inseam. Our petite pants have a 28" inseam, the regular pants are 30" and the tall are 33" at the inseam.

If you're short waisted with long legs, then Tall pants are probably your best option.

Bridge the Gap with Boots

Sometimes it's not possible to get pants the right length. We have Pull On Pants in Tall, but our Slim Leg Pants are regular length. That doesn't mean you don't get to wear leggings. Knee high boots conceal your pants' shortcomings and look stunning. If you can't find knee high boots that are high enough, try over the knee boots.
Stick With Sleeves That Are Supposed to be Too Short
If long sleeves are never long enough for you, wear short sleeves and 3/4 length sleeves. When the shortness is intentional, it looks and feels better.


Gather Ye Tunics While Ye May
Extra long tunics are in style right now. (We have some fabulous ones from Janette Plus.) Snap them up now and keep wearing them even when they're no longer in stores. Don't worry about trends - worry about what fits your body.
Return What Doesn't Fit

Some women will order clothes online and then if they don't fit, they just keep them around until it's time to clean out their closet and donate some things to the thrift store. Or, in the case of pants that are too short, they just wear them anyway.

I get it. You have a lot on your plate. But this approach means that you don't buy clothes until you desperately need some new clothes. Shopping while desperate never ends well.
Hire a neighbor's kid or a Task Rabbit if you must, but get into the habit of returning clothes that don't fit you properly. You deserve clothes that you bought because you liked them and not because two pairs of work pants gave up the ghost in the same week.
Don't Settle
Pants that are too short may not seem like a big deal when you're getting dressed and rushing out the door. But by lunchtime, you'll have wasted more energy being annoyed than you would've spent shopping for the right clothes. You deserve better.