The Plus Size Guide to Shopping Like a European
Posted by Jen Anderson on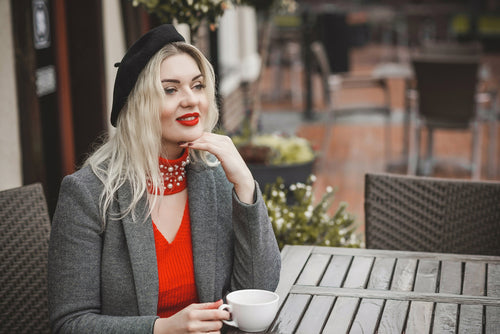 We've all looked at photos of stylish women in France, England, or Italy and wondered how on earth they managed to look so glamorous. If only we knew their secrets we could look that fabulous too. There are definitely some ways we can follow their example. But first, I need to bust some myths.
The Myths
We've all heard that French women are all oh-so slender (giving them lots of clothing options), but it's just not true. The last time I was in Paris, I saw television commercials for industrial-strength shapewear and low-cal meal-replacement goop. (This being France, the stuff was served atop a bed of lettuce and garnished with tomatoes and a hard-boiled egg.) In the past few years, there's been an explosion of plus size clothing options all across Europe.
Very little of European pop culture makes its way to the U.S. and a lot of that includes photos taken during fashion week or movie premieres. What we're seeing is women who employ a stylist, a hairdresser, and a makeup artist. Most women in Europe look nothing like that.
The Reality
If you've ever traveled to Europe or live in a city with a lot of international tourists, you know that Euro street style is still pretty fancy. Their idea of casual is what we'd call smart casual. This isn't because of any inherent superiority or snootiness. One factor is American car culture, and the relative scarcity of cars in Europe. It's one thing to drive the kids to school drop off in your PJs, and quite another to walk them to school dressed like that.
Another reason for the difference is in how we shop for clothing.
The Shopping Strategy
In the U.S., cheap fast fashion is everywhere you turn. But so is the good stuff. And there's always a sale, so many of us tend to focus on prices. I used to stand in a department store asking myself, "do I like this top enough to pay $20 for it?" instead of "am I going to wear this a lot?" and "how will this fit into my wardrobe?" And when you're plus size, you may not be accustomed to finding clothes that fit you, so you snap up anything you don't actively loathe.
In Italy and France, department stores are only allowed to hold sales twice a year. They're not seen as a way to stock up or bargain hunt. Those sales are when those unattainable pieces women have been coveting all year become more affordable. The rest of the year, they pay full price for clothes they love because they won't be around for the sale.
Plus, anyone who has seen International House Hunters knows that houses (and closets) in Europe are much smaller than their American counterparts. With not much storage space, European women have to be very thoughtful about the clothing they buy.
So if you want to shop like a European, you need to be mindful of your clothing purchases. That means following a lot of my usual advice - be sure that the color and style are right for your individual body, look for well-made pieces that will last, and go for classic styles that won't look dated in a year or two.
Oh Look, a Sale
We always have a few pieces on sale, though we may be sold out of your size. If you're looking to casually add to your personal collection of Vikki Vi, keep an eye on the sales. But if we have something that you simply must have, we recommend not waiting. 
1 Comment