Can I Be More Than One Body Shape?
Posted by Jen Anderson on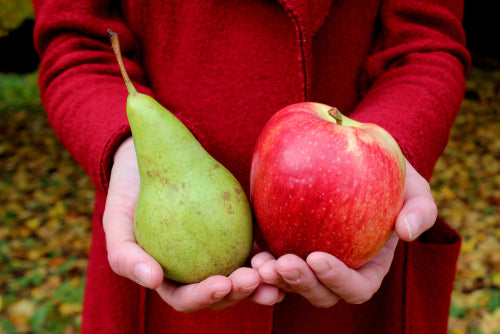 Your body can absolutely have some attributes of more than one of the five main body shapes. It's so common that some style experts have come up with their own taxonomy. Trinny &Susannah discuss 12 body shapes in The Body Shape Bible, while Bradley Bayou has defined 48 body shapes in The Science of Sexy. That's right - forty-freaking-eight.
You could study those books, fit yourself into one of their shapes and follow that advice. But you may not fit into any of those categories. (I still don't know what saddlebags are and if I have them.)  
I'm going to give you the tools you need to pick and choose from the usual advice. It doesn't really matter if you're an Apple Pear, a Cello, or a Goblet. You need to figure out which styles fit your body comfortably and stylishly so you know what to look for when shopping. You only need to be an expert in you. Yes, this means you'll end up with a closet full of similar pieces, but it also means that you won't end up with a closet full of clothing that you're not that happy with.
Let's start with the Tummy.
Every human being ends up with a bit of a belly. Apple shaped women start out that way. Age and pregnancy bring the rest of us to the party. But that doesn't mean we should all wear apple-friendly silhouettes. Apple shaped women don't have a defined waist, and their hips aren't wider than their shoulders. So for them, shift-style dresses like the Maxi Tank Dress are ideal. But if you have pear hips, that style may not fit you well across the hips.
The important thing is here is how you treat your tummy - like a curve. You wouldn't wear something that cut across your boobs or hips, so don't wear something that cuts across your middle. Empire waists are your friend, and you should be thoughtful about separates. Shift-style tops and dresses are also great for you - the lack of a defined waist in the garment means that it won't be cutting across your curves. Anything that leaves room for your hips may also leave room for a belly. The Swing Cardigan, Swing Vest, and Handkerchief Tunic all give your midsection room to breathe.
Now let's move on to the Copious Busom.
Also known as a Rack of Doom or Huge Tracts of Land. We usually talk about this with Inverted Triangle shaped women. A high neckline can make your chest look like a ski slope, so the lower the better. You also want something with some sort of waist shaping so that the fabric isn't hanging off of your chest like a curtain. That makes your clothes look kinda shapeless and ill-fitting. An empire waist can be your friend. Even better is subtle side shaping like the Deep Scoop Neck Top has - it gets just a wee bit slimmer-fitting under your boobs, so it fits you better.
I suggest a good bra, and sticking with knit fabrics. Knits have a little stretch to them, so you can buy a top or dress that fits your waist and hips and stretches to accommodate your chest.
What about a relatively small bosom?
That depends on the look you want to go for. An empire waist or a deep scoop neckline can highlight your assets. But you can also wear high necklines without looking matronly like your top-heavy sisters.
What's the formula?
Read style advice for all body shapes. Some of the Don'ts will be your Dos. Look for the reasoning behind the advice. If you try something on and you think, "eh," then it's not right for your shape. There's no need to analyze why if you don't want to. Stick to the styles that make you smile at the mirror. The fashion world offers enough variety that you can stick to just one silhouette without getting bored.