No More Plus Size Apology Clothes
Posted by Jen Anderson on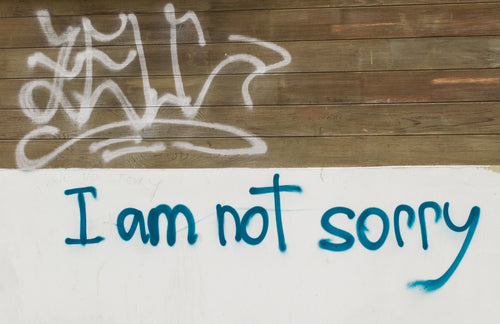 Some plus size women make style choices that revolve around making ourselves look smaller. We wear black because it's allegedly slimming. (It isn't.) We don't want to risk showing off a single lump or bump, so we wear clothes that hide our bodies. We avoid bright colors and prints that would draw attention to ourselves. Most of our wardrobe is worn out and faded because we hate shopping.
When we dress this way, what we're really doing is apologizing for our size. We're telling the world, "I'm sorry for forcing you to gaze upon my hideous self. I have done everything I can to minimize the offense to thine eyes."
I'm saying "we" because I used to be the same way. My current personal style is anything but subtle, yet I spent the 90s in oversized tops. Plus size options were limited and trying on clothes was disheartening. After so many years of trying to stuff myself into too-small clothing, I just went with pieces that wouldn't make me feel squeezed. I once bought a pair of shorts that were a size too big because I couldn't bring myself to try on the correct size and risk wearing something too small for even a moment.
At the time, I simply couldn't cope with the effort necessary to build a good wardrobe. I hadn't embraced size acceptance so my body and I weren't friends. I suppose Apology Clothes could also be called Denial Clothes. You can't dress a body well without getting a good look at it and assessing what you're working with.
Fabric Matters
I'm not saying that tight, fitted clothing is the only way to demonstrate that you have a healthy amount of self respect. There's a big difference between relaxed-fitting clothing and shapeless shlumpy messes.
Fabric is as critical as silhouette. A fabric with drape will skim over your body without clinging to every curve. That means the garment's measurements can be close to your body's measurements without being too tight in any spots. Clothes made with drape-y material show your figure without giving the world a topographical map of your body.
Unfortunately, you can't judge the quality of the fabric by what's in it. I can't say all acetate is good and all cotton is bad. If you try on a piece of clothing and it just hangs there limply and doesn't look that good, that may be because the fabric is poor quality. High quality fabric moves beautifully and looks expensive. 
Once you start paying attention to fabric, you'll develop a sense of what's good quality and what isn't. Or you could just buy from Plus By Design. Danielle selects all the fabrics we use for Vikki Vi Classics and she insists on the good stuff. When we have something from an outside brand, you can assume it's high quality because Danielle wouldn't stock anything meh.
Color Is Also Important 
Black is incredibly chic as long as it isn't faded. (The Slinky fabric we use for Vikki Vi Classics doesn't fade, so you're safe there.) Wear black because you want to look fabulous. Not because you're trying to hide.
The terrible and wonderful truth is that wearing black won't make you look any smaller, and wearing bright red won't make you look any bigger. Wearing exuberant prints and colors is scary for some people because it announces to the world that you're not going to apologize for your body. It says that you're not ashamed anymore because you never had anything to be ashamed of in the first place.
3 Comments