Plus Size Style: What Length Pants Should I Get?
Posted by Jen Anderson on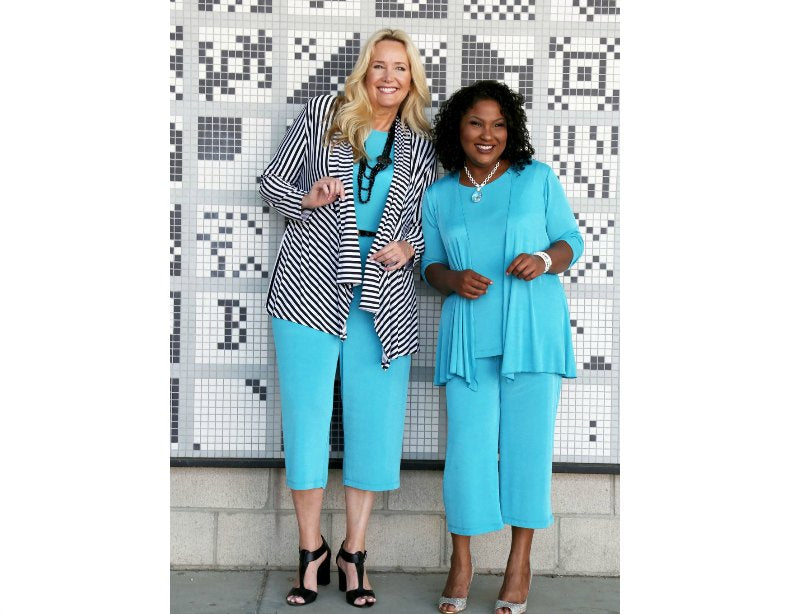 If you've been unhappy with how pants fit you, you've probably realized that there's no straightforward answer to this question. We all have different proportions, so you can't just go by your overall height. The answer also varies according to the style and look you're going for.
It's Not Just About Height
You probably think that petite length pants are for people 5'3" and under, and tall pants are for those over 5'8". Not so fast. If you're tall and long waisted, then you may need regular length pants, or even petite pants. If you're short waisted, you may need longer pants than you think.
Where Your Pants Hem Should Be
The only real requirement here is that your pants shouldn't be long enough to trip you. If you don't want to be precise about this, that's fine. I'm 5'2" so I've always focused on the not tripping thing. But thinking about this can give us a better idea of what we're looking for.
You want Crop Pants and Gaucho Pants to end anywhere between your knee and ankle - you have plenty of wiggle room with these styles. For Pull On Pants, you want them to end just below your ankle bone. With Bootcut Pants and Wide Leg Pants, you can go longer - long enough to barely skim the floor. Slim Leg Pants should end right above your ankle bone.

It's Inseam Measuring Time
If you have a pair of pants that are the perfect length for you, lay them out flat and measure the inside of one of the legs. If you can get a friend to help you, then you can measure your actual inseam. Measure from the top of your inner thigh to the bottom of your ankle bone. You can hold the top of the measuring tape in place while your friend focuses on your ankle. While you're at it, also measure all the way down to the floor so you won't have to guess for the longer styles.
Vikki Vi Inseams
Let's take a look at the numbers:
Petite Pull On Pants - 28"
Regular Pull On Pants - 30"
Tall Pull On Pants - 33"
Slim Leg Pants - 30"
Petite Slim Leg Pants - 27"
Wide Leg Pants - 30"
Extra Petite Boot Cut Pants - 26"
Petite Boot Cut Pants - 27"
Regular Boot Cut Pants - 30"
Crop Pants - 24"
Gaucho Pants - 24"
So what does this all mean? Well, if the Petite Pull On Pants hit you just below the ankle, then the regular length Wide Leg Pants would give you that longer look. If the Petite Pull On Pants are still too long for you, the Crop Pants or Extra Petite Boot Cut Pants may be perfect for you. If you usually wear the Tall Pull On Pants, then the Slim Cut Pants won't be too short on you, and you can consider wearing the Petite Pull On Pants as Crop Pants.
My point is that you don't have to stick to your lane here.
Now What?
Write down your inseam measurement, as well as that longer floor-skimming measurement. Now when you shop online, you can look at the inseam measurements and you'll have the necessary context to know if those pants are for you. When shopping in stores, you can measure pants before taking them into the dressing room.
Unless you're walking the red carpet, you don't have to be precise about this. But understanding the whole inseam thing means that you can explore all your options. 
3 Comments