Plus Size Special Event Outfits You'll Wear Again
Posted by Jen Anderson on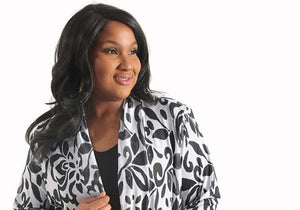 Here we go again, ladies. Spring weddings. Graduations. Often with the same group of friends and family. There was a time when I bought a new dress for every special occasion. All that got me was a closet full of dresses that I only wore a couple of times. I shop a lot more strategically now.
What's the point of owning a versatile wardrobe if I still go shopping every time I need to look a little nicer than usual? Now I just reach into my closet whenever I receive a fancy invitation in the mail.
What's My Secret?
It's versatility - which means plain as all get out. I don't mean boring. I mean unembellished. No sequins or sparkly bits. No fringe. Nothing that will clash with my jewelry. Nothing that provides the jewelry in the form of beading that just makes the thing more difficult to wash.


Classic pieces go everywhere, go with everything, and stay in style year after year. Vikki Vi Classics have a lot of pieces that fit the bill. I'm thinking of the Maxi Tank Dress, Jewel Neckline Maxi Dress, A-Line Maxi Dress, and Sleeveless Shift Dress. Pants are perfectly acceptable at special occasions, so Palazzo Pants or Pull On Pants can fit the bill if you prefer. And let's not forget about versatile skirts like the A-Line Maxi Skirt, Straight Maxi Skirt, and Side Slit Straight Maxi Skirt.
Of course, Black is as versatile as it gets but it may not be your thing. You may prefer to go with a different neutral like Winter White or Cool Gray. You can even do this with a brightly colored dress - just keep the accessories neutral or complementary.

It's All About the Accessories

If you're going to wear the same dress to multiple events without dying of boredom, you're going to need to change the look with accessories. Shoes and jewelry are a good place to introduce some variety, but that will only get you so far.
A jacket or Sheer Topper has a lot of impact. In fact, an interesting top layer can upstage the rest of the outfit. That means that even your catty sister-in-law isn't going to notice that you're wearing the same little black dress you've been wearing for ages.

But accessorizing thoughtfully isn't just about saving face. It's about making a versatile dress appropriate for the special event. A garden wedding calls for a colorful top layer. An evening wedding needs a chic, monochromatic outfit such as a Maxi Tank Dress with a matching Kimono Jacket.

Take it to Work

An outfit that you can only wear to special events isn't as versatile as it could be. You want something that can go to the office. Again, it's all about the accessories. Simpler jewelry. More businessy top layers like Blazers, Swing Cardigans, and Shawl Collar Jackets.
No One WIll Notice
It's not your wedding! It took me ages to realize this. Of course I want to look my best, but my cousin will still know how happy I am for her if I wear a dress that I can wear outside of a catering hall.
If you absolutely can't attend an event in a dress you've already worn (like me), then debut it on the big day but still pick something that you can wear again and again.
Shop Classics for your new favorite versatile piece. And we have some fabulous toppers on sale, so go forth and accessorize.
3 Comments