The Plus Size Guide to Interpreting Size Charts
Posted by Jen Anderson on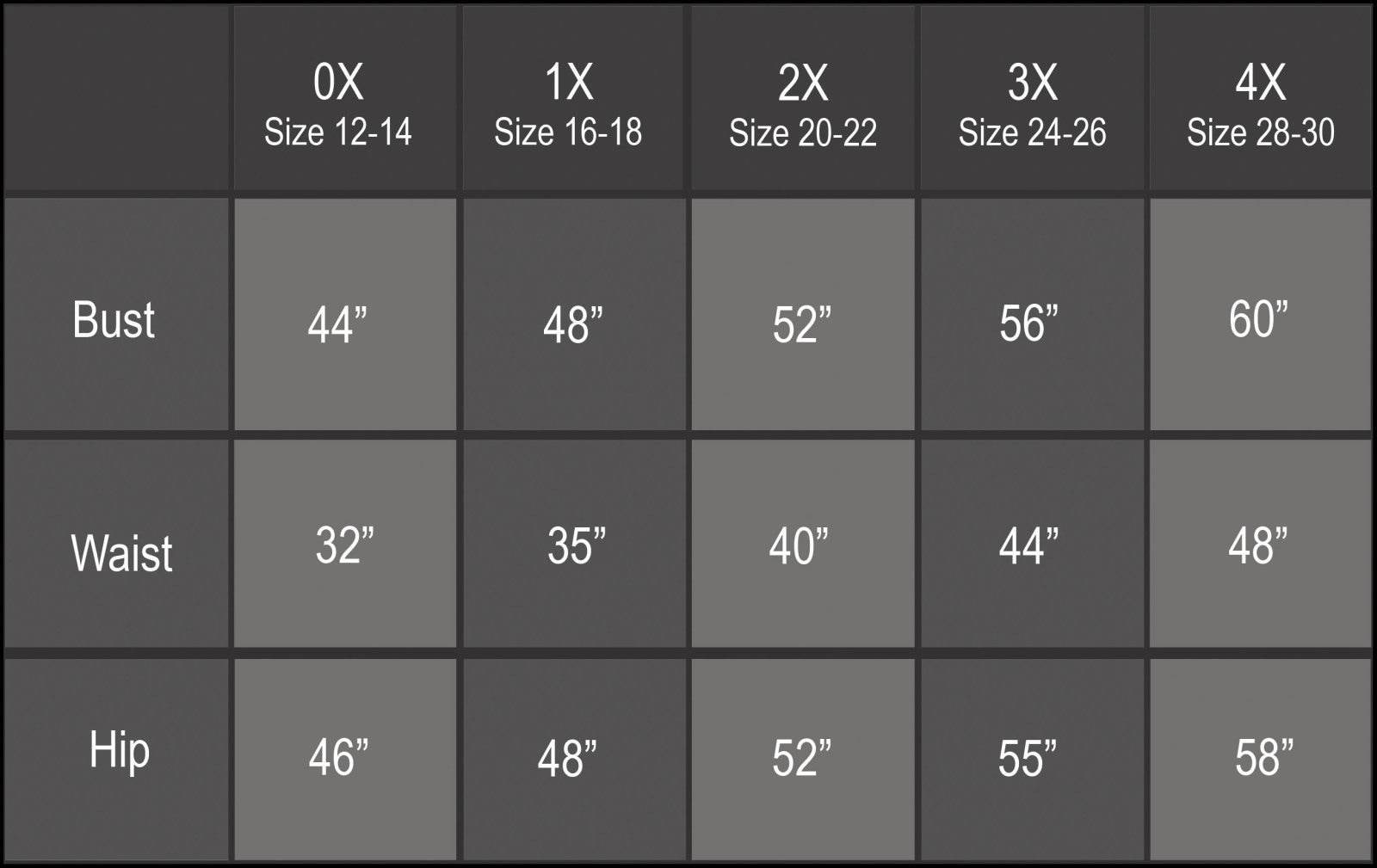 Even when you know your measurements, a clothing size chart can be confusing. It may not be clear which size applies to you. And you're not even sure how accurate the chart is. Let's figure this out.
Reading a Size Chart
There are 2 approaches to creating size charts. You may find a number or a range of numbers. For example, for a 2X, the Vikki Vi size chart says 52" bust, 40" waist, and 52" hips. When you see a single number like that, the number refers to the measurements of the garment. If there's a range, such as 50"-54" bust, that's referring to your measurements.
Ease
When a size chart gives the measurements of the garments, you need to consider ease when figuring out which size you need. Something clingy will have negative ease - you have a 54" bust and the top has a 52" bust. Too much ease (say, more than 2 inches) will get you a baggy fit. 1-2 inches of ease will get you a relaxed, body skimming fit.
Vikki Vi Classics and Jersey Classics are made from knit fabric, which means they have some stretch and a lovely drape. Which means you might take a smaller size than you expect to. With stiffer, woven fabrics, you may need more than 2 inches of ease.
When You're Not One Size All Over
Size charts assume you're hourglass shaped, which you probably aren't. I'm a 2X on top and a 3X on the bottom. My waist measurement is completely off the charts, but 2X clothes fit my waist just fine. Life is a mystery, and so are women's clothing sizes. Of course it helps that I don't get clothes that are fitted at the waist. But still, hoping for completely solid data isn't going to get us anywhere in this situation.
If you're different sizes on the top and bottom, separates are your friend. A matching Shell and Maxi Skirt will give you the look of a Maxi Tank Dress while fitting you properly. 
Dresses and tunics are a little more complicated. If you're bigger on the bottom, a long, straight tunic like the Long Sleeve Tunic may be either too tight over your hips or too loose over your bust. But a Handkerchief Hem Tunic or A Line Dress is designed to have extra room around the middle, so you can safely get the size that fits your bust measurement. 
If you're bigger on top, consider going with a little negative ease up top. With stretchy knits like Vikki Vi uses, you'll still be able to move and breathe. But with stiffer fabrics that don't have as much give, you'll need some ease in the bust.
How Do You Know When You Can Trust a Size Chart?
Smart cookie that you are, you know that sizes aren't consistent across brands. If a retailer sells multiple brands, you can't assume that every brand on their site uses the same size chart. Google is your friend here. Find the brand's own size chart, or search for "does [brand] run true to size?". 
Since we actually make Vikki Vi, our size charts are accurate. Obviously, the hip measurement of a Swing Cardigan or Handkerchief Hem Tunic is larger than what's in the size chart. How much larger depends on the style, and you don't need an accurate hip measurement with styles like that. I mean, we know the exact measurements, and our friends at the garment factory know, but you're not looking for a specific hip measurement in a Swing Vest.
When In Doubt, Ask For Help
You can always contact us for advice on what size to order. There's no need to guess. We know these clothes inside and out and we're more than happy to answer any questions you have about them.