Why Do I Have To Measure Myself Before Ordering Clothes Online?
Posted by Jen Anderson on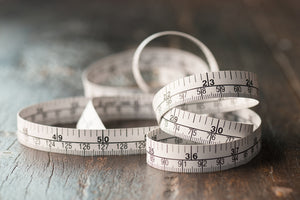 Because return shipping is expensive and time consuming. Because trying on clothes that don't fit is dispiriting. Because it will make shopping online for clothes so much easier. "Yeah, but I don't want to measure myself before ordering clothes online." It's too much work. Clothing sizes should be consistent. The cat stole your measuring tape. Besides, taking a close look at your body requires more emotional fortitude than you have to spare.
I still want you to know your measurements, so give me a chance to convince you.
It's too much work

Not if you're just going for your bust, waist, and hip measurements. If you're ordering clothes made to your specific measurements, then you'll need a lot of different measurements. That will take a few minutes and a friendly helper. 

You can take the big three measurements yourself. Or ask a friend or spouse to do it. Or you can ask a tailor to do it while you're dropping off your mending or picking up your dry cleaning. 

Women's clothing sizes should be consistent

Yes, they should. They're not. Your refusal to measure yourself isn't going to change the system.

The cat stole my measuring tape

Anyone who owns a cat knows I'm not kidding about this. Future archaeologists will find hidden caches of measuring tapes and they will be super confused.
You need to grieve that measuring tape and move on. It's not coming back. If you do find it, it may be stretched, mangled, or otherwise unusable. Let it go. Buy a new measuring tape and hide it from the cat. 

Yeah, but...

Let's get real. The reason you've been putting off measuring yourself is that you just know you're going to get depressed. But what if you just...didn't? The size and shape of your body is neutral information. 

I know. My body is bigger than it used to be, and it was never as small as I thought it should be. I'm still indignant that I'm at least 4 inches shorter than almost everyone in my extended family. When I was 20, I went on a blind date and the guy's face fell the moment he saw me. 

There is no amount of hating your body that I don't understand. I spent decades beating myself up. I got to the point where I simply couldn't continue feeling that way for one day longer. You don't have to wait. You could just stop now.
But still...

Do it anyway. Measure yourself and then spend the rest of day recovering on the couch. Once you have your measurements, you'll be able to buy clothes that fit you well and you'll start feeling more OK about your size. 

OK, but why?

So you can understand the Size Chart. If each size has only one number (like ours), then that number refers to the measurements of the clothing. If the size chart has a range for each size (such as 49-51), then that refers to your measurements. Size charts are meaningless if you don't know your own measurements.  

If you're still confused about which size to order, contact customer service for help. And no, you can't just skip to this step - we'll need to know your measurements when advising you what size is right for you.
5 Comments