How to Have a Great Plus Size Date Night
Posted by Jen Anderson on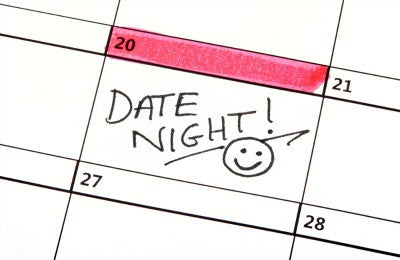 Do the words "date night" strike fear into your heart? Panic? Disappointment that your closet doesn't contain the right date night outfit? Me too.
On the bright side, I'm married so I'm pretty sure he'll call the next day. And if I were single, I've been around the block enough to know that dating is about deciding whether or not I like the other person and not about convincing them to like me. So date night is much less harrowing than it used to be. But the fashion challenges remain.
It's easy to find plus size va-va-voom outfits designed for women in their 20s and 30s. But bodycon was never my thing and shapewear doesn't exactly put me in the mood for love. 
And that mood is critical. We're all so busy and tired that date night can become Netflix and Doze Off Before You Chill. Which we already do on regular nights. The whole point of date night is to reconnect with your partner, whether you've been together 2 weeks or 20 years. 
Dress the Part
It's not easy to feel attractive when you're plus size. Big girls get plenty of (non-creepy) attention in the dating scene, but society likes to tell us otherwise. Add to that all the stress of eating out while plus size, and it's a miracle we bother with date night at all. 

As with anything else, the right outfit can put you the necessary mindset. You want an outfit that says, "the kids are at grandma's all night, but you still have to take me to dinner first." That's not just to send a message to your partner. It's to remind yourself that you're desirable. It's to make yourself feel like you deserve to be wined and dined. It's to remind you and your partner why they fell in love with you in the first place.

A duster or sheer topper can be just the thing for date night. That pop of color or texture adds some romance and allure to a dress or separates. Vikki Vi's Lace Gored Duster (pictured here) adds a touch of romance without being frilly.
Plan Ahead
If you don't plan in advance, you'll end up at the same old neighborhood restaurant, ordering the same exact meal as usual. Which is fine, but date night is supposed to be different. Break your routine. Pick a restaurant you'd like to try and make reservations a week in advance. Order movie tickets so you have something to look forward to.

The planning shouldn't stop there. Think up a few topics of conversation before the date so you won't just talk about work and the kids all evening. Even discussing the TV shows you watched together earlier in the week can help you connect more than venting about your work nemesis.
Don't Stop Dating
Dating is fun as long as you do it with the right person. When you've been in a relationship for a while, it's so easy to take each other for granted. Date night is all about reminding each other about everything that makes your relationship special.
If your budget can't handle a night on the town, you can still have date night on the cheap. If you usually eat dinner in front of the TV, simply eating at a table and talking to each other can help you reconnect. There's no reason why you can't dress up to eat in.