Eating Out While Plus Size
Posted by Jen Anderson on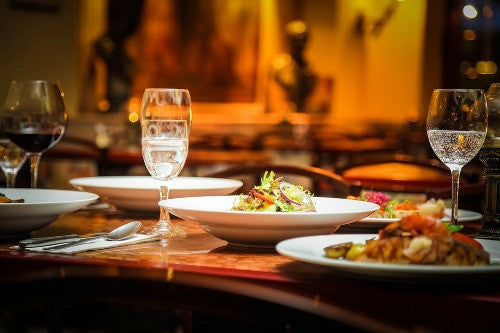 Eating in public while plus size can be challenging. In her debut novel, Good In Bed, Jennifer Weiner writes about the tension between what we want to eat, and what we'll let ourselves eat, and what we'll eat in public. So much yes. Yet we walk that tightrope and we still might be subtly (or overtly) shamed by our dining companions, servers, or people at other tables.
The whole thing is fraught with danger, but it's still worth it. Sharing a meal is a wonderful way to bond with friends. There's a primal power to the whole experience, whether you're lining up at the trendiest brunch spot or hitting up the neighborhood sandwich shop.
Like anything else, dining out will go more smoothly with a little advance strategizing. 
Do Your Research
You probably already check online reviews before going to a restaurant for the first time. Sites that solicit reviews from the general public aren't very useful when you're trying to find out if a place is worth going to. But those sites are full of useful photos. Sure, it's nice to see how the food looks, but you can also check out the seating situation.
See if the chairs have arms that might dig into your hips, or if the booths are so small that they'll dig into your stomach.
The time to find out if a restaurant has a comfortable seat for you is before you make the reservation.
While you're doing your research, go ahead and check out the restaurant's menu. Deciding what you want to order in advance is an old dieter's trick, but it can be useful even when you're not on a restricted diet. You can decide what you'd like to try away from the clamor and stress of the restaurant. Maybe you'll be too busy chatting to read the menu, or you might get distracted by your old friend (and mine), social anxiety. Or maybe the print will be too small and the restaurant too dark to read the menu (what is up with that?!).
Dress the Part
Just like in the office or on an airplane, dressing nicely can get you that extra bit of respect. It's not fair, but at least Vikki Vi Classics make dressing up comfortable. Those elastic waist
Pull on Pants
? Perfect for eating a big meal while looking so posh and stylish that no one would dare look at you sideways.
That walk from the hostess station to your table can be nerve wracking (so many things to bump into) or confidence boosting. A great outfit can turn my "oh no, everyone is looking at me!" into "darn tootin' everyone is looking at me!"
Stop Caring About What Other People Think
The reality of the situation is that some people are jerks. You can eat out, order yourself the lowest calorie thing on the menu and still get snickered at. Because some people are the absolute worst. And that has nothing to do with you. Everyone is entitled to their own incorrect opinion.
Simply existing and eating in public while plus size is a form of activism - albeit one you didn't choose and can't avoid. You can order in because society doesn't treat you properly, or you can treat yourself to a meal out and take a tiny step towards making the world a kinder place. Visibility matters and you deserve the whole experience from appetizers to dessert.
1 Comment