Style Tips for the Bootylicious
Posted by Jen Anderson on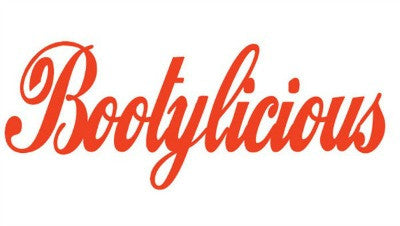 I'm a firm believer in dressing for your body - not because you have parts that need to be camouflaged, but because it's just so much more comfortable to wear clothes that fit properly. Trying to shove my pear hips into a narrow skirt just doesn't give me enough room to move.
When something doesn't fit me quite right, it's so tempting to blame my body instead of the clothes. If only I weren't shaped like this, that dress would be coming home with me. In reality, that dress is like a cute guy who just isn't right for me. I'm so much better off not trying to force things.
Whether you have wide, womanly hips like me or an ample booty like other pear shaped women, you know how frustrating it can be when clothes ride up or pull across that spot. I got some tips from Monica, our fabulous stylist and model (who you should totally be following on Instagram) that should make our pear shaped lives a bit easier.
Pick Clothes That Make Room for Your Booty
If you're bootylicious, separates are your best friend. There's nothing wrong with wearing different sizes on the bottom and top. No one is looking at your size tags, so if you need to go up one or two sizes on the bottom just do it. Matching separates give you the same look as a dress without needing to be altered. 

Jackets like the Swing Cardigan are cut to be wider around the hips and rear, so they're more likely to lay flat. Your results may vary - we don't all have the same waist to hip ratio, so a cardi like this may still not lay the way you'd like. In that case, Monica says you just shouldn't cover your hips or tush with a top or jacket. Pick tops that hit you at the high hip, like the one Monica is wearing in this picture. 
If you're tall like Monica, then something like Vikki Vi's 3/4 Sleeve Top will end at your high hip. If you're shorter, you may want to get the top shortened by a tailor or pick a different top. Measure a top that hits you in the right spot so you'll know what length to look for. 
Don't Overlook the Details
Tops made from light, floaty material will hang better on a bootylicious body. Jackets like our sheer toppers are made to sit farther away from the body than jackets made from heavier material. That means they won't be too tight across your rear.

Or look for tops and jackets with shoulder pads - the fabric will hang from the shoulder pads, far enough away from your body that your hips will have more room.

A statement necklace is always a good choice. If you're self conscious about your hips, a bold necklace will divert people's attention up and away from that spot. I'm always in favor of drawing attention up towards your lovely face and your mouth which is saying all sorts of witty, brilliant things. Great shoes are another great attention-getter and they're so much fun to wear.
Love Thy Booty
Your body doesn't have to be a source of aggravation. And neither does clothes shopping. It's just like dating - it's a lot more fun when you know what you're really looking for. 
Check out our other posts about dressing your pear shaped body.