Customer Spotlight: Ruth Royal
Posted by Jen Anderson on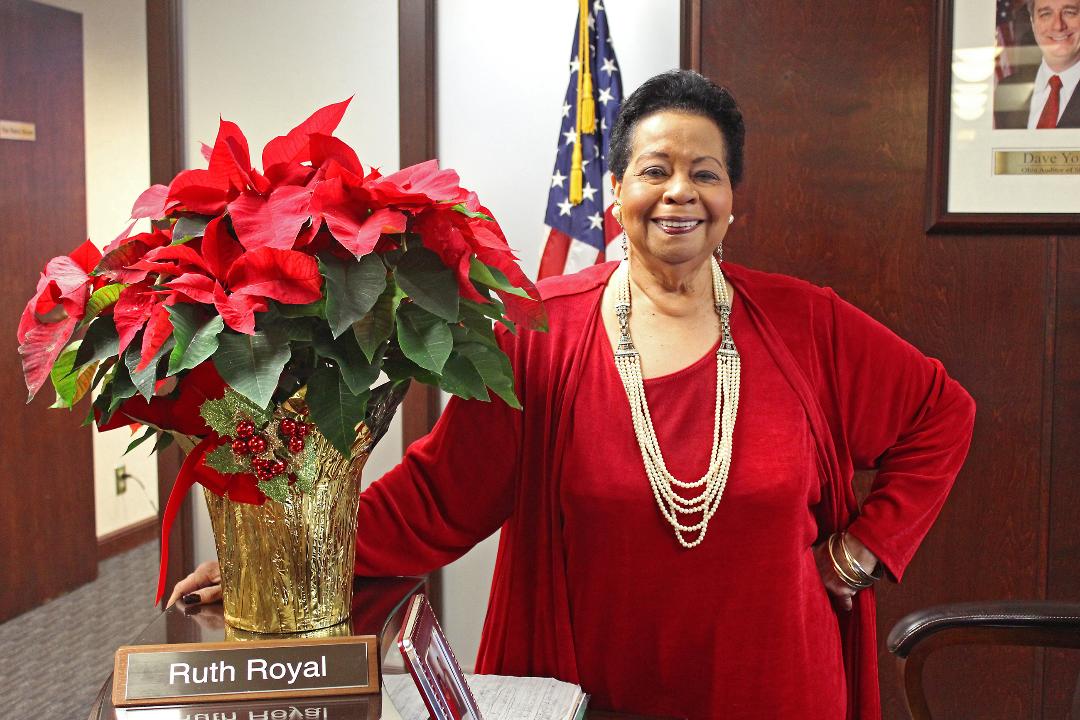 From time to time we'll be turning the spotlight on you, our oh-so fabulous customers. Let us know if you'd like to be featured - don't be shy!
Stop by the Ohio State Auditor's office in Columbus, and you'll be greeted by receptionist Ruth Royal. She'll probably be wearing Vikki Vi Classics, and will certainly be flashing her winning smile.
Ruth can rock a monochromatic outfit like nobody's business. Her signature look is a, "basic outfit with a great necklace." So it's no surprise that she owns over 75 Vikki Vi outfits. "I love Vikki Vi because you can be business or casual." Her favorite pieces are the Long Kimono Jacket and the Drape Jacket.

Her style is easy to imitate and she says, "you will look like a million dollars." Ruth also recommends wearing "colors that look good on you." Red is her color, but she's not afraid to try other shades. 
Ruth has been wearing plus size clothing for 20 years. She shops at "Nordstrom and other fashion boutiques around the city." Her fashion obsession is jewelry, and she's definitely a pants gal - "they're more comfortable for an 81 year old lady".

What keeps eighty-one year old Ruth coming into the office? She likes to stay active. "I love people and getting to know them."

Outside of work, Ruth loves shopping, and taking cooking classes at restaurants. "You prepare the food and then eat the full course meal." #LifeGoals A self-described social bug, she enjoys entertaining and organizing fun nights on the town like flying a private jet to New York City or Las Vegas. #MoreLifeGoals
She's been a Plus By Design customer for 10 years, and Allegra has been working with her for the past 5 years. "I love all of my customers, but Ruth is a favorite," Allegra says. "We talk about tabloid gossip and always share stories about our families. She always asks me 'How are the beautiful people doing over there in LA?' She has a great sense of humor and great taste in jewelry. She will sometimes call to get my opinion on a new piece of jewelry she is going to purchase to see if it would look good with her Vikki Vi."
Allegra continues: "She tells me how she is going to need to build another room for her Vikki Vi because all of her other closets are full up. I'm sure she has every shade and color of Vikki Vi! One of the things I love the most about Ruth is her dedication to her work and always looking dressed to the nines. I hope that one of these days that I can meet her in person, She is seriously an amazing person."
Ruth is a positive person who tries to make a difference in the world. She loves helping people, and treats them the way she'd like to be treated. Her kindness and sincere interest in others certainly do make the world a better place. And her outfits make it a more beautiful place too. 
Fun Fact: Ruth's parents founded a restaurant, McClendon's Southern Comfort Food at the Ohio State Fair. When her parents retired, she and her late husband Johnny took over. 
3 Comments