The Secret to Plus Size Summer Clothes
Posted by Jen Anderson on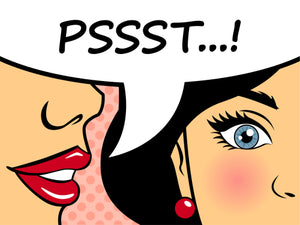 It's getting hot out, everyone's shipping their kids off to summer camp, you've been invited to a dozen cookouts and you don't have a thing to wear. This includes all those things that you don't want to wear. Maybe you bought them at a hotel gift shop when your luggage was lost or it was so much hotter than expected. Or maybe they're just sort of OK, and it was too hot to return them. Apparently you would be caught dead in that stuff after all, but you'd still rather not.
You can have a plus size summer wardrobe that you love. It just takes some planning.

How much skin are you comfortable showing?

Deciding this before you go shopping will make things go more quickly. If you're absolutely not going to show off your upper arms, stick to your guns. After a while, it's tempting to give up and surrender to the to the cult of sleevelessness. But that's how you end up with a closet full of clothes and nothing to wear. 

Maybe you prefer crop pants to shorts. Maybe you're fine with sleeveless tops, but loathe cap sleeves or too-short short sleeves. Decide before you start browsing and your eyes will slide past the pieces you don't want and right to the ones you'll love.
The secret is breathability

Summer fabrics should let your body heat escape. Moisture-wicking fabrics (like Bamboo) are your friend. You could be showing lots of skin, and still be hot if you're wearing a fabric that doesn't breathe. Or you could be covered head to toe in a Jersey Caftan and be as cool as if you were sitting directly below a ceiling fan.

Which fabrics do you prefer?

Only you can tell which fabrics will work in different summer situations. Although my 1990s self would disagree, denim shorts are too heavy for summer. But then again, you may need jeans for cool evenings at the lake.  You may find that Vikki Vi Classics are too heavy for those times when you have to walk a few blocks in the heat and humidity, but perfect when you're parking your air conditioned car a few steps from an air conditioned building. Or you may live in one of the low humidity dry-heat areas and you're perfectly comfortable in Classics year round.
For me, summer is time for Jersey Classics. The fabric is light and soft, and keeps me comfortable in Midwestern humidity and SoCal heat. Also, we have a lot of great prints in jersey and if you can't wear fun prints in the summer, then when can you? 

What shouldn't you wear in summer?

Other people's opinions. Human beings are just bubbling over with opinions. You're showing too much skin. Or too little. Or you're wearing something that they themselves would never wear and somehow this has something to do with you. Or they're concerned that you're going to rip a hole in the fabric of the spacetime continuum by wearing horizontal stripes. Or maybe they're all about shorts and old t-shirts, so they think you're overdressed.

It's too hot to care about what other people think. You're not dressing for them. You're dressing to make yourself happy.
Check out the Jersey Collection