Summer 2019 Plus Size Trends
Posted by Jen Anderson on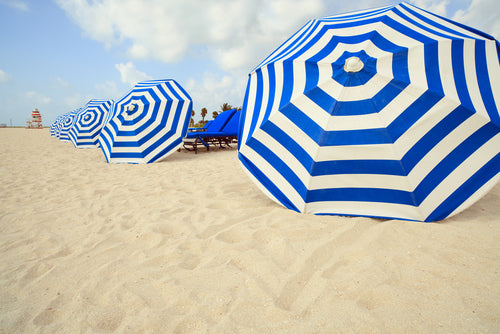 By now you know that I'm not big on trends. I'd rather have clothes that I can still wear in a year than the latest thing. To be fair, I may have developed this opinion because until recently, it was so hard to find trendy clothes in plus sizes, but I stand by it. This summer is different. This summer, I'm all about the trends. Because miracle of miracles, wonder of wonders the latest trends are classics.
What are this summer's trends?

It's not some neckline that you can't wear with your usual bras, or something that shows so much skin that you need sunscreen for the walk to the car. (Seriously people, I need caftans and parasols to be the latest thing. I don't know who would be happier - me or my dermatologist.)

This summer's trends are about color. And not some weirdly specific shade of green that will look dated by August. I'm talking about Navy and White. Not necessarily both of them together, but then again why not?

What makes Navy and White right for summer?

White certainly makes sense for summer. Light colors go with warm weather and it doesn't get any lighter than white. But navy blue is pretty dark, so huh? Well, navy has nautical connotations (obviously). In most contexts, navy evokes military uniforms and conveys a sense of authority. But in the summer, navy blue also conjures up images of yachts and seaside strolls.
What about fabrics?

Matte jersey is perfect for summer. It's light and airy, and it drapes and moves beautifully. But it's not so lightweight that you couldn't wear it in winter. (Don't even think about coming at me with the no white after Labor Day nonsense. I don't do rules. #Rebel #WinterWhite)

What about stains?

I know how it goes. I suggest you wear white and you get lightheaded just thinking of the disasters that could befall your pristine white outfit. And OK, fine. If you're going to be rolling around in the grass with all your nieces and nephews, then stains are a concern. I'm not going to suggest that you garden in white. But our matte jersey is machine washable, so don't be afraid to wear it.
What about mixing and matching?

Navy blue and white are both neutrals, so they go with just about anything. Contrary to popular belief, you can actually wear navy with black if you're thoughtful about the combination. If you pair black pants with a navy top, the colors will bleed into each other and look off. They're too similar to contrast, and too different to match. But a black handbag, belt, necklace, or shoes would go well with a navy outfit.

When mixing other colors with navy, you need to trust your instincts. Some shades look absolutely stunning with navy while others are not quite right. If you're not confident in your color mixing skills, navy is an excellent place to start since it plays well with so many colors.

And of course, navy and white make a great summer combo because they're so nautical.
Go forth and be trendy!
Which pieces you go for are deeply personal. You may be all about faux wrap dresses, or a crop pant/sleeveless shell combo is your jam. You don't have to abandon your personal style to dress with the trends this summer.
4 Comments