Which Necklaces Work Best With Which Necklines
Posted by Jen Anderson on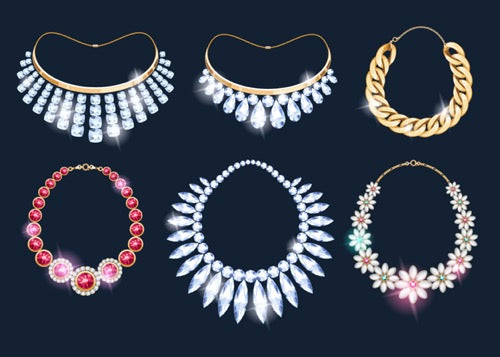 It's so easy to say that certain necklines call for certain necklace styles. Until you've tried on every necklace you own without finding one you like with the outfit you're wearing. (That's not just me, right?) Let's figure this out.
What's the goal here?
A good necklace/neckline combination is one where you can see the necklace easily. You know you have a bad combo when the neckline and necklace visually fight with each other. OK, but what does that mean?
Picture a keyhole neckline - the cutaway means you have fabric, skin, and then more fabric. What type of necklace would you wear with a keyhole neckline? Trick question - the best necklace to wear with a keyhole neckline is no necklace at all. The keyhole provides visual interest on its own, so a necklace would make things too cluttered.

That's what we're trying to avoid. Even when you're wearing a delicate chain with a small pendant, you want your necklace to be visible.

Let's get specific

I've seen a lot of advice about selecting your jewelry depending on your body. I have never been able to figure out how to apply this information to my actual body. And a lot of it comes from a place of trying to look thinner, which is a lot to ask of a strand of beads and an unworthy cause to boot. 

But I've also found some good, neckline-specific/body shape agnostic advice too. I'll stick to the necklines that you'll find in Vikki Vi Classics.
Turtleneck - A long necklace works best with a turtleneck. A turtleneck with a pendant or shortish necklace can look extremely 1970s. A long strand of beads or a chain creates a more modern look.

Jewel Neckline - This neckline is designed to show off your jewelry. A pendant that rests on your collarbone is perfect here. A bib or statement necklace also works well with a jewel neckline.

Round Neckline - This neckline doesn't show much skin, so your necklace is going to rest on top of the fabric, not on your skin. A bib, collar, or statement necklace works well with a round neckline. 

Drape Neckline - Like a keyhole, a drape neckline offers enough visual interest that you can skip the necklace entirely. But a short, delicate necklace that ends above the fabric is also a good look. Subtlety is key here - think grandma's pearls or a small pendant.

V Neckline - It doesn't matter how deep a v neckline is - you want your necklace to rest entirely on your skin and not on your clothes. That's because the v neckline is angular - something wide like a string of beads or a statement necklace will fight visually with the v shape. Go with a pendant.

Scoop Neckline - Since this is a low neckline, you want to go with a necklace that rests entirely on your skin. Mimic the neckline's roundness with a full statement necklace or a large pendant. A small, long pendant will draw attention to your cleavage, so that's a better look for date night than the office.
Button-Down - Treat this like a narrow v neckline and wear a short pendant or choker.  
Now what?
These rules/guidelines/suggestions are supposed to make getting dressed easier. You may want to create a cheat sheet or bookmark this post so you can refer to it easily. You may want to re-organize your necklaces to sort them by neckline pairings. (Ambitious? Yes. But it is a thing you can do.) 
Like a lot of style advice, this can be a hassle until you get the hang of it. Necklaces and necklines are important because they're close to your lovely face, so they're highly visible. You don't want a bad combination to distract from your smile, so it's worth reaching for the "right" necklace.
4 Comments