Plus Size Rustic Wedding Guest Outfits
Posted by Jen Anderson on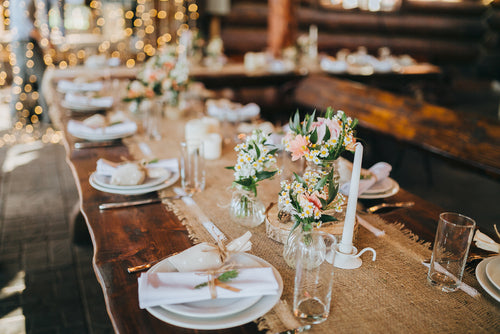 I suspect that we're going to have an increase in outdoor weddings this year. If my prediction is correct, it'll go beyond the usual beaches and public parks. There has been no better time to drag your loved ones halfway up a mountain to get married by a secluded mountain stream. But even backyard weddings come with their own wardrobe challenges.
Start with Your Footwear
It's going to be a lot easier to pick out your clothes for the event than to find the perfect shoes for the occasion. Uncomfortable shoes will distract you all day, ruining your fun. But shoes that are too utilitarian may spoil the look you're going for. 

There are plenty of supportive, attractive shoes and sandals out there. If you simply must wear a heel, go with a wedge for stability. Even brands known for a hippie aesthetic are now offering footwear that wouldn't be out of place at a wedding.

Plan Your Outfit

The happy couple should be able to offer some guidance on how dressy or casual they'd like you to dress. Rustic means lots of nature and weather, so go for light layers. I'm thinking a jersey dress or jersey separates with a sheer topper or jersey cardigan.

You're definitely going to want your outfit to be machine washable. Rustic weddings require sunscreen and insect repellant. You may be expected to eat standing up. I recommend wearing a scarf that covers your front so that if you spill anything on yourself, you can just take off the scarf. One of our customers tells us that she simply turns her shell back to front to hide stains under her jacket. You could also wear a cardigan and button it up while eating so it'll catch any spills.
As always, you don't want to match or clash with the wedding colors. With a rustic wedding, you also want to consider the surroundings. There's going to be a lot of brown and green, and you don't want to match the trestle table. Shades of blue or pink, and floral prints are especially well suited for rustic weddings. Your beloved basic black may seem too uptown chic for the rustic locale, so take the opportunity to branch out. 

Let's Talk Specifics

Our T-Shirt Style Dress has the relaxed feel that a rustic wedding calls for. A Maxi Tank Dress would also work well. With separates, I'm liking a Kimono Jacket over a Tank/Shell. You can never go wrong with an A Line Maxi Skirt. Crop Pants may fit in well with the rustic setting.

Don't Forget the Mask

I've said it before - there's going to be photos, so you can't just grab any old mask. You want a mask that coordinates with your outfit. And although a rustic wedding has a certain casual air, you should leave the fun and silly masks at home. No cartoon characters or superhero logos. 
You'll be eating, so decide in advance if you'll hang your mask from your wrist, tuck it in a bag, or whatever.
Don't Forget to Enjoy Yourself
Between uneven ground, humidity, and mosquitos you could get caught up in all the potential difficulties that come with attending a rustic wedding. But the happy couple will plan ahead for a lot of these issues, so you don't have to worry about it. Just relax and enjoy the company.
Check out our other posts about plus size wedding guest dresses.