Why Can't I Find the Latest Styles in Plus Size?
Posted by Jen Anderson on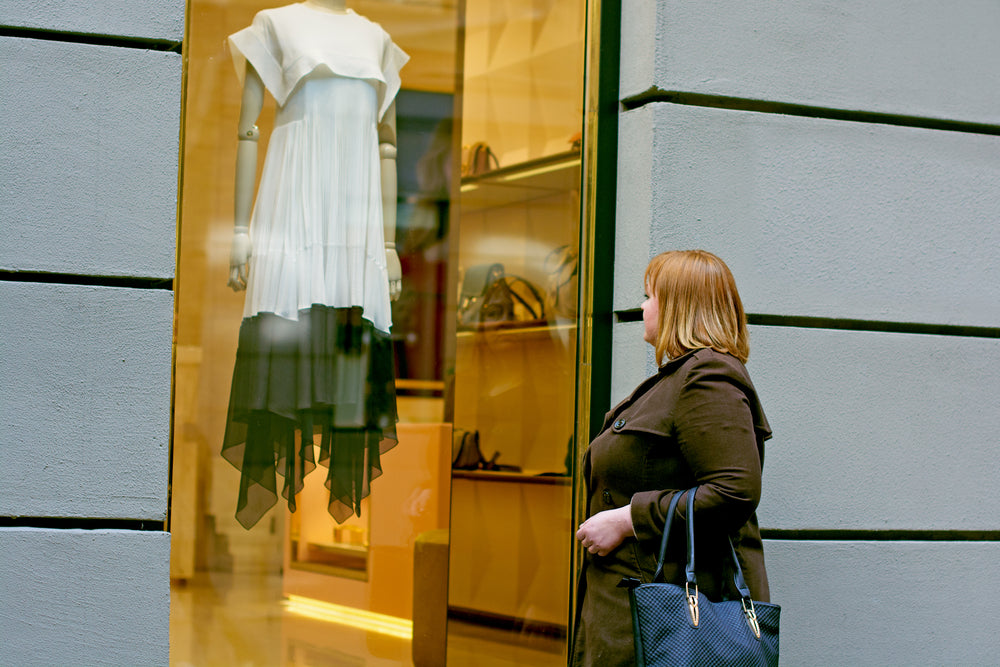 It wasn't that long ago that trends didn't make it into the plus size department until they were last year's news. That has improved, but plus size women still have problems finding the latest thing. But it isn't just a matter of neglect. 
Some Designers are Clueless
Sometimes a trendy brand starts offering plus size clothing, but only pieces that are downright hideous. Designers and executives who know nothing about plus size women think that we only want baggy, shapeless sacks in dark colors. No one buys their ugly nonsense and they stop offering plus sizes instead of doing a better job. Had they created plus size versions of their regular styles, it would be a different ballgame. 
Or a designer will decide which trends will work well on plus size bodies and so they keep certain trends out of their plus size line. Or they try to get away with simply sizing up a size 8 pattern which leads to giant armholes, exceedingly wide necklines, and too long everythings. (To be fair, some brands know better but are too small to afford to make an entirely new pattern. They're not clueless, just not up to the task.)

You're Looking in the Wrong Place

No clothing brand can be for everyone. We all have different tastes and budgets. We have our own strong opinions on which styles we want to wear. Some plus size women want to wear bodycon dresses and belly-baring crop tops. Vikki Vi customers are not those women, so we don't make those styles. Some women wouldn't wear Vikki Vi Classics and others don't have anything but Vikki Vi in their closet.

You need to discover which plus size brands are for you. I know. It's exhausting to have to look at so many clothes you don't like in search of your new favorites. It can feel like the bad old days when it took forever just to find something that fit. But it gets a lot easier once you've found a few favorites.
You Have High Standards

Maybe you can find the latest styles in plus sizes, but not in your colors. Or they're flimsy and cheaply made, but the price tag doesn't reflect that. Or maybe you think the latest style is stupid. It certainly took me a while to warm up to the cold shoulder look. 

I'd never tell you to relax your standards. But it's a lot less frustrating to feel like you're rejecting the style than to feel excluded from the latest trend.

Don't Give Up

This is not the part where I tell you that trends are dopey and you should only wear classic styles. Yes, Vikki VI Classics are, well, classic. But long time customers will notice that some of our styles go away and are replaced with others. A scoop neckline is always in style, but some years we're all more in the mood for v-necks. 
As always, if there's a style you'd like to see here, be sure to tell Danielle by replying to one of her emails or posting in our Facebook group. No promises of course, but it helps us to know what you're looking for.
Keep your eye out for New Arrivals. And don't wait too long to buy, or we may run out of your size.
1 Comment