Plus Size Outfits for Beating the Heat
Posted by Jen Anderson on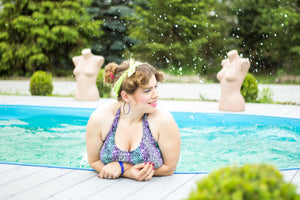 Is there any month as dreaded as August? Sure February is gray and dismal, but a bright wooly hat and scarf can fix that. But the dog days of Summer? There's going to be a day this month when you're going to consider shaving your head because you're just. so. hot. The only question is how long it'll take you to get there.
Pro tip: Get your hairdresser to do an undercut at the nape of your neck. No one will know unless you pull your hair into a ponytail. And the buzzcut at the nape of your neck will make hot weather (and hot flashes) so much more tolerable.
Since we can't spend the entire month in a swimming pool, we have to figure out a way to dress without getting drenched in sweat. You may want to dress for the freezing air conditioner in your office, but it'll make you miserable every second you're outside and you'll be a mess by the time you get to work. Bring along a top layer, or leave one at the office. Don't make your morning commute any sweatier than it has to be.
Sleeves? Pul-leeze
Sleeves are not your friend in August. I don't care how much you hate your upper arms - sleeves are going to make you more uncomfortable than any self-consciousness. 
Sleeveless Shells are your friend. This season is when Vikki Vi's Sleeveless Shells rise above the rest of the pack. They're thick enough that you can wear them on their own - try that with flimsy, see-through shells.
If you absolutely cannot bear to expose your upper arms (no pressure - you do you), then switch to elbow-length short sleeves.  
Show Some Leg
I'm not suggesting we all slip into mini-skirts. That's a bit much (or not enough) for the office. In August, I'm all about the Crop Pants. They keep you just a little less covered than you would be otherwise. Yet they don't expose you so much that you look weekend-casual. 
I've broken up with shorts because the cuffs tend to dig into my legs when I sit. Or they're so loose that I start worrying about showing a lot more thigh than I'd meant to. 
We love a Maxi Skirt around these parts. But in hot weather, we like a knee-length skirt instead. Vikki Vi's Black Flip Skirt is a great choice for August. The same goes for our T-Shirt Style Dresses (those flutter sleeves are short and loose enough that they get a pass on the no sleeves rule). Since moving to sunny Southern California, I practically live in jersey t-shirt style dresses.
Secret Weapons
Tis the season for underboob sweat. Pretending otherwise is just going to leave us sweaty and uncomfortable. Moisture wicking bras are your friend. Or just wear a wicking bra liner under your bra band. At a minimum, put some anti-perspirant on that area. 
It also helps to know and understand fabrics. In hot weather, our regular Classics may be too heavy for you. But Silky Classics, Jersey Classics, and Brushed Jersey Classics are much lighter while still draping beautifully.
Let The Hot Weather Empower You
You know when I make my boldest fashion choices? When I'm too hot to care anymore. I'll put my hair up in clips to get it off my neck. I'll let my flappy upper arms out to play. I'll wear sandals even if I'm way overdue for a pedicure. 
It sounds like I get sloppy in hot weather, but really I adopt an insouciance that I wish I could have the rest of the time. What happens is that I relax my usual rules and discover that I still look pretty great anyway.
This August, let the heat get to you and throw caution to the wind. You just may love the outfits you end up with.