Plus Size Long Tops to Wear With Leggings
Posted by Jen Anderson on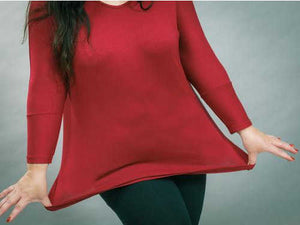 Long tops over leggings is a really great look no matter what size you wear. The contrast in proportions is fun. It's a middle ground in the "are leggings pants?" debate - technically, you're wearing them as pants, but...
It comes down to how comfortable you are with displaying the contours of your body. Specifically, the area between our belly button and about halfway down our thighs. It's partly a matter of modesty and partly all those magazine articles about "problem areas". Longtime readers will know how I feel about picking on body parts. My hips are not a problem. The knee I keep bashing into furniture - now that's a problem area.
I'm certainly not going to tell you to wear short tops with leggings in the name of personal growth and body liberation. It's your body and you get to expose and cover it any way you'd like. What I want most is for you to dress joyfully.
We carry quite a few long tops that look great over leggings. Let's talk about what you might be looking for in a plus size long top, so you can find your new favorite top.
Proportions
Not all plus size tunics are the same. Some are the long, swingy style you picture when you want something to go with leggings. Others are just a few inches longer than regular length tops, which allows taller women and those with tummies to get the regular look. I mention this because we (and other retailers) carry both kinds, so you do some browsing before deciding that a shop doesn't have what you're looking for.
If you're pear shaped, you'll be more comfortable in a tunic that flares out. I mean that literally - a top that covers your hips without giving you enough room to move and breathe is really uncomfortable. Women with other body shapes may like the look of a tunic with straight sides that doesn't flare out, in addition to the more common a-line tunics.
Length
Your own height (and long- or short-waistedness) will determine where the hem of any top hits you. Measuring your favorite tops from the center back neckline to the hem will give you an idea of how different tops will look on you. Tunics can stop at the top of your hips or go all the way down to your knees.
Longer tunics make for a dramatic look, so don't shy away from them.
Volume
With long tops that you're going to wear with leggings, you want them to be relatively close fitting above the waist. Any top that's too big at the shoulders and chest will overwhelm your frame. You'll be completely lost in excess fabric, and you'll be readjusting your clothes all day long. A relaxed fit is fine, but baggy isn't fun to wear at all. 
Just like with length, more volume means more dramatic. As long as the top is relatively fitted above the waist, a voluminous tunic won't be too big.
Embrace the Look
It's tempting to think that a long top and leggings is meant to conceal your body. What a depressing thought. When you put together outfits like this, aim for cute and swingy. You'll end up with a look that's comfortable and stylish.