Plus Size Cocktail Party Outfits
Posted by Jen Anderson on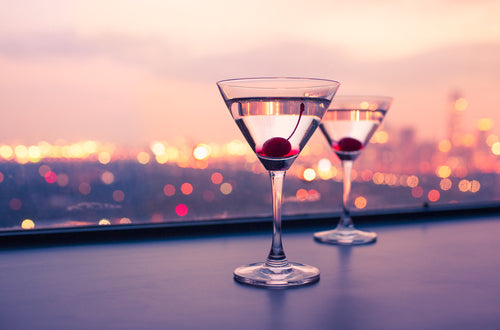 We talk a lot about how this or that outfit is appropriate for a cocktail party. But what do we mean by that? Even if you're never in your whole long life been invited to a Cocktail Party, you've probably been to that type of party. When we say cocktail party, we mean any party where you eat and drink standing up while looking fabulous. This stunt requires a certain kind of outfit.
What Makes a Party a Cocktail Party?
The presence of food and drink paired with the absence of seating, plus a certain level of fanciness. This could be a garden party, the cocktail hour of a wedding, a school reunion, or a holiday party. A barbecue is not a cocktail party because if your friends expect you to eat ketchup and BBQ sauce while standing, then you need new friends.

Pro tip #1: You can't eat off a dish while also holding a drink, yet you're going to end up with a plate in one hand and a glass in the other. Balance the plate on top of the glass to free up a hand. Or find a flat surface where you can rest your drink. Cocktail parties often feature a few tall tables for this purpose, but a windowsill or low wall will work in a pinch.

What Makes an Outfit Cocktail Party Appropriate?

It might be easier to consider what makes an outfit a bad choice for a cocktail party. Long, draping sleeves that will get in the way while you're reaching for a crab puff are a no-no. Anything that would be completely ruined if you spilled some food on it doesn't belong there.
But you also want an outfit that's chic and sophisticated. This is not the time for casual wear. Pants are fine. Jeans are not.
Most of the pieces in our Topper collection can quickly make an outfit cocktail party-ready. Above, Allegra is wearing the Vikki Vi Navy Floral Mesh Gored Duster over the Navy Short Shell Dress. The dress by itself is fine for a cocktail party, but the duster makes it a bit more festive.

Vikki VI's Cascading Scarf Jacket is also perfect for a cocktail party. The front has added volume (and added pizzaz), but the sleeves are more fitted, so they won't end up in the cocktail sauce while you're reaching for a shrimp.

Short or 3/4 length sleeves are great for cocktail parties. On the right, Danielle L. is wearing a Bronze 3/4 Sleeve Kimono Jacket over a matching Jewel Neckline Maxi Dress. A Short Sleeve Tunic or 3/4 Sleeve Top work with a Side Slit Maxi Skirt is another great cocktail party outfit.

OK, But Cocktail Parties Are Still Scary

Yeah, I know. Mingling can be absolutely terrifying. Pro Tip #2: Have several conversation starters ready to go. Asking about vacation plans is always a safe topic. I like to ask people how they know the party's host. Don't ask someone if they have kids because they may have just completed their fifth unsuccessful IVF cycle. Do ask about their favorite TV show. Think over your standard questions and you'll be able to use them over and over again.