Plus Size City Vacation Outfits
Posted by Jen Anderson on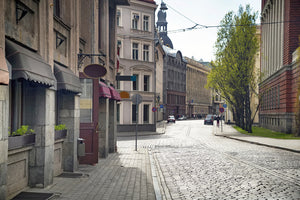 There are two schools of thought when it comes to city vacation wardrobes. The first is, "I want to be comfortable and that means dressing like I'm going to an amusement park even though my day involves going to an art museum and eating in a nice restaurant." The second is, "I want to be comfortable and that includes dressing appropriately and not sticking out like a sore thumb." It's tourist vs. traveler.
As always, you do you. But I've found that dressing like a tourist (or even being with people dressed like tourists) makes you a target. Pickpockets, con artists, and muggers can see tourists a block away.
My rules for city vacation clothing are no jeans, no sneakers, no backpack. Do I even need to say no fanny pack? But my rules also include no uncomfortable shoes, no toppers that I can't roll up and put in my purse, and no shapewear.

Planning Your Plus Size City Vacation Wardrobe

The tricky thing about this is that with city vacations you need to be ready for anything. You might pop into a cafe for a coffee break. You could get to the museum to discover that it's closed that day, so you go to the top of a skyscraper to check out the view. Or it starts raining so you decide not to do the walking tour but find out about a behind the scenes tour at an opera house.

Cities also mean a lot of walking, so you absolutely want to dress comfortably. (Pack two pairs of shoes. Switching between them will keep your feet happy.)

You know I'm going to say that Vikki Vi Classics fit the bill perfectly. But what exactly do these outfits look like? Pictured here, we have Allegra in two outfits that would be perfect for a city vacation. Both include the standard pieces of a pantsuit - Pull On Pants, Sleeveless Shell, and a Swing Cardigan or 3/4 Sleeve Cardigan.
You could wear either one of those outfits to the office. And yet they don't make her look like she's running errands on her lunch break. The accessories make all the difference. Both outfits include necklaces that are a bit more casual, colorful, and eye catching than you might wear to work. (Of course, the most powerful vacation accessory is the relaxed smile.)

Can You Go Even More Casual?

Of course! Many prints look more casual than solids. Our Print Collection has quite a few exuberant patterns that would be perfect for a city vacation. The Junior Plus Collection has several tunics that would be at home in the Louvre or the Seattle Space Needle.

What About Everyone Else?

What do you do when you dress like a traveler and your spouse dresses like a tourist? As with all outfit planning, you need to start with enough lead time to allow for some shopping. Use your usual method of spousal cajoling to convince them to try a nicer combo of the standard shorts, sneakers, and t-shirt. You may be stuck with the shorts, but there are plenty of trendy sneakers that don't look like running shoes. Tees without logos, or shirts meant to be worn untucked like bowling shirts and camp shirts can really elevate a look. If all else fails, just keep telling yourself you look like a local showing the sites to out of town friends.
4 Comments