Plus Size Cardigans
Posted by Jen Anderson on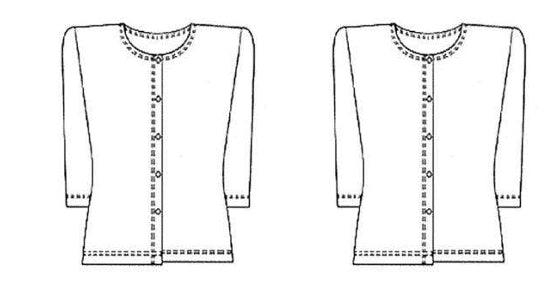 March weather tends to be all over the place. The temperature can vary wildly from day to day, or even from hour to hour. It's the time of year that's really made for working from home, because it's impossible to dress appropriately for an entire day. Which is where cardigans come into play. 
Not all plus size cardigans are created equal. Bulky cardigan sweaters may be cozy, but the heavy fabric magnifies the usual fit issues. They don't necessarily layer well and they're too warm for those in-between days. Let's set those aside for now and talk about more versatile cardis. 
What actually counts as a cardigan?
There is actually no definitive answer. We all know they're not pullovers, but jackets and button-down tops also aren't pullovers but they're also not cardigans. Except...if you wear a button-down top unbuttoned over a tank, that's kinda cardigan-y. And a jacket with jeans can have a cardigan-vibe. Vikki Vi Classics include all three types of tops, all made from the same fabric so the material's weight isn't a way to distinguish them from each other. Plus, when you wear one of our 3/4 Sleeve Cardigans all buttoned up as a top does it cease to be a cardigan?
Clearly, this is a philosophical question for the ages. For our purposes. let's say that a cardigan is any top you wear open over another top. Maybe you wear it partially buttoned, or completely open. 
Which means...
A cardigan isn't going to cover up a not-so-great top.
It's not an excuse to wear that beloved, but stained tank. It needs to mix and match well with the rest of your outfit, even when you're just bringing along a cardigan just in case. 
Mixing vs. Matching
If your cardigan matches the underlying top but not your pants/skirt, that creates a twinset/sweater set look. Add pearls and close only the top button to make it a little retro. The twinset look is soft and feminine, yet it can actually convey confidence and competence. The women who rule the Homeowner's Association with an iron fist wear twinsets.
However, if your cardi, top, and pants/skirt are all the same color it creates a bold, monochromatic look. It's more modern and versatile than the twinset. Your shoes and jewelry can take that outfit to the office or to a special occasion. 
When the top doesn't match the cardigan, that really shows off your mixing and matching skills. This is true whether the pants/skirt match the cardi, or the underlying top, or neither. It can be a casual look that reminds everyone that you know how to fashion.
Selecting a Cardigan Style
Even when you wear the cardigan open, you'll still want to work with your body shape. If you're pear shaped, a cardi long enough to cover your hips may not fit you comfortably. If it fits around the shoulders, it might not drape well over your hips. If it fits your hips, it'll be too loose around the shoulders. Or it might be perfectly fine. It depends on your actual proportions.
Something shaped like the Swing Cardigan is ideal for those of us with relatively wide hips. Actually, the Swing Cardigan is one of those styles that works for all bodies. 
Just don't skimp on your cardigans.
Don't treat your cardis as an afterthought. They're an important part of your outfit. Replace your tired, shapeless cardigans with something you'll love more. You deserve to be enthusiastic about every single thing you wear.
1 Comment