Plus Size Beach Vacation Outfits
Posted by Jen Anderson on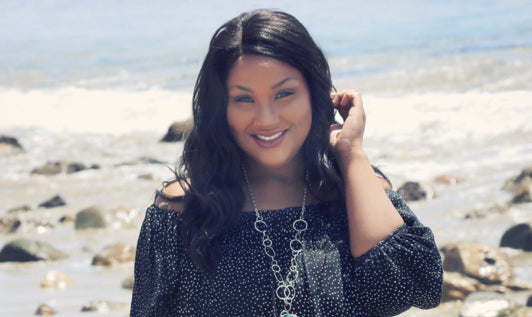 For most of us, packing for a beach vacation takes a bit of thought. Since one of those thoughts is, "This would be a lot easier if I had time to go shopping," we should have this conversation whether or not you're planning a trip to the beach in the next month. Don't worry - you don't need an entirely new wardrobe to head to the beach for a week. But you may want to treat yourself to a few pieces that will make your wardrobe a bit more beachy.
But first, a word on beach bodies.
The only thing you need to do to get your body ready for the beach is to apply some sunscreen.
Imagine me yelling that at a Facebook post and you'll get a pretty accurate picture of me for most of the Spring. For realsies, though. If anyone gives you even a little side eye while you're on the beach, I want you to wave over the ice cream guy and eat an ice cream sandwich at the offender. Maybe make up a little song about how you have tasty ice cream and they have body issues.
What's 'Beachy', anyway?
Let's all picture ourselves standing in front of our open closet trying to figure out what to pack for our beach vacations. There's got to be something in there that's sufficiently beachy. We're talking bright colors, light colors, and casual. Your black pants are not going to cut it at the beach. I know this because I wore black crop pants while visiting a friend in Orlando and I stuck out like a sore thumb.
Let's Get Packing
Exactly what you pack depends on your personal taste and how much skin you like to show. As always, you do you. But here are a few pieces you may want to take to the beach.
A caftan. Or several caftans. If you can't rock a caftan at the beach, where can you? They're comfortable and oh so stylish. Wear a floppy hat and giant sunglasses to complete the look. If nothing else, consider wearing a caftan as a coverup on your way to and from the beach. 
Casual dresses. Easy, breezy, and beautiful.
Crop pants. So much more comfortable and practical than shorts.
Camp Shirt, Swing Cardigan or Kimono Jacket. They move beautifully in the breeze and looks so much nicer than the windbreaker you reach for when the evening turns cool.
Sleeveless Shell, Sleeveless Tunic, Short Sleeve Tunic. Obviously. Jersey is just right for hot weather. Just don't forget the sunscreen.
Sheer Topper. At some point on your beach vacation, you may eat dinner at a restaurant, or invite some friends over, or - there are plenty of reasons why you might want to be a little more dressy in the evening. Slip on a sheer cardigan or print duster and your daytime outfit will be instantly fancy.
What About When You Get Home?
You can wear every single one of those pieces off the beach too. The separates can go to the office, the sheer topper is great for parties, and the caftan and dresses are perfect for lounging around and looking fabulous (or hosting a party yourself).