How to Look Good in Photos When You're Plus Size
Posted by Jen Anderson on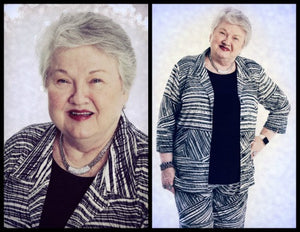 There's so much to love about parties - the fun, the food, the friends! And much to hate - really bad photos of you popping up on social media. 
Some of those pictures are unavoidable - bad lighting and poor amateur photographers are as much a fact of life as sunburn and mosquitos. But there are some things you can do to improve your chances of ending up with some good photos of yourself.
Posture!
You can spend all day walking tall, imagining a string pulling the top of your head towards the ceiling. But as soon as someone starts snapping pix, you lean into the person next to you. Or you scrunch down in front so that too many people can fit into the frame.  
Somehow standing up straight can make us look instantly 10 pounds thinner, but slouching or leaning can make us look 30 pounds heavier. Not that looking smaller is a worthy goal. Never apologize for how much space your body takes up - you're entitled to every inch. But bad posture can make us look unlike ourselves. And that's what makes for a bad photo.
Prints
Solid colors may not be your friend during picture time. You want all eyes on your pretty face, but wearing one solid block of color can draw the eye towards your clothes. Everyone's torso is larger than their face, and when we look at photos our eyes go straight to the largest block of color. When we wear one solid color, that largest block is our chest. 
But when you wear a print, or a jacket over a contrasting top, you break up that field of color. All eyes go to your lovely face.
Practice
Learn which angles work best for you. Take lots of selfies. There's so much advice about lowering your chin, or raising your chin, or jutting your chin out. You simply have to try different angles to see what makes you look your best. These moves, plus tricks with your eyes like smizing or squinching, can make you look weird if you don't do them properly. Keep at it until you get the hang of it.
Maybe you like how you look with hand on hip. Or with your arms crossed, or standing at an angle to the camera. Experiment - this is all about making sure you're happy with how you look in photos and not following one set of rules.
Once you've figured out how you want to face the camera, practice so you get in the habit. Your friends will love seeing a daily selfie from you. Then when someone starts snapping photos at a party, you'll automatically move your head just so.
Make Friends With the Camera
All those bad photos over the years have probably made you a bit camera shy. By dressing and posing to stack the odds in your favor, you just may stop cringing when your friends start snapping photos.
3 Comments