Dressing For the Holidays Without Overdoing It
Posted by Jen Anderson on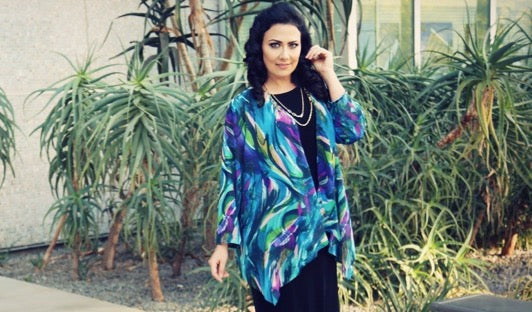 Of course you want to dress up for holiday parties. Who can blame you? But you also don't want to look like some glittery thing people hang in the window to make it look festive. And you really don't want to end up with any clothes you can't wear again until next December. Don't worry - with the right shopping strategy you're going to be able to love your holiday wardrobe all year long.
Colors
Make a point of not matching the decorations. If you wear a Christmasy shade of red or green throughout the year, resist the temptation to wear them together. No human being looks good in both those colors. (Not sure why? Here's a blog post on that very subject.) Wearing just one of those colors is fine. I have a kelly green dress that I wear all year round. When I add a wide black belt, it looks a little Mrs. Claus on Date Night so I only wear that combo in December.

You have a little more wiggle room when it comes to combining Hanukkah blue and silver. Separates only, please. Both colors in one top or dress will read as aggressively seasonal, and won't be wearable year round.
Don't wear gold or silver unless you're going to a really fancy party. Even then, stop and try to think of future occasions where you can wear that dress. One major advantage of swearing off dieting is that you know you're likely to be wearing the same size in a year or two. So you can wear that gold dress to the company holiday party this year, a New Year's Eve party next year, and then keep it around for the next formal wedding you get invited to. But if you'll be pushing your friends into dressing up just so you can wear that silver dress again, you'll probably be happier with something else.

To Sparkle or Not to Sparkle?

Let your smile and your jewelry do the sparkling. Anything with sequins or lots of glittery bits is something that's going to be spending a lot of time in the closet. Something with a subtle shimmer will work all year round, so invest in a piece like that instead.
The Perfect Re-wearable Holiday Outfit
Say it with me - Little Black Dress. Don't want to wear black? An LBD can be any color. It doesn't even have to be a neutral shade. An LBD is a dress that is versatile enough to go with lots of different accessories. It's a dress that looks great on its own, but can also act as the backdrop to a variety of scarves, jackets, and toppers.

For pear shaped women, I recommend the 3/4 Sleeve A-Line Dress, though it works for any body shape. For apples and other non-pears, we have the Maxi Tank Dress and the Jewel Neckline Dress.

For a fancy party, you can wear your LBD by itself, adorned only with your best (real or fake) jewelry. For a more relaxed party, a sheer topper makes you look merry and bright. For something in between, a lace jacket or duster helps you strike the right note.
For the rest of the year, top off your LBD with various jackets for completely different looks. A denim or moto jacket is great for shopping with friends, while a Blazer or another one of our classic jackets/cardigans takes your dress to work. You can probably make 10 outfits with an LBD and things you already own. (If you can't, then you really need to go shopping.)

Don't Think Holiday - Think Fabulous

Yes, you're going to a lot of holiday parties soon, but that doesn't mean your outfit should be holiday-themed. Wear something that would be appropriate any time of the year, and you'll be the most stylish person in the room.
The Holiday Season is almost here! Time to buy a little black dress and some fabulous toppers.