5 Outfits for When Looking Good is the Best Revenge
Posted by Jen Anderson on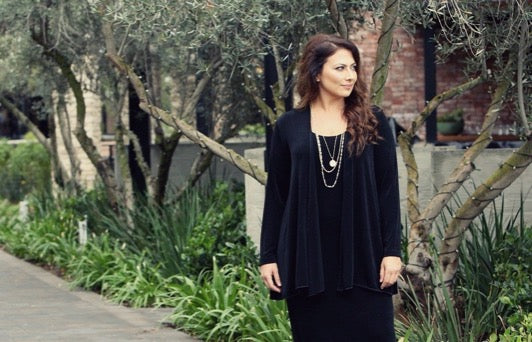 The Holiday Season is a time to gather with your best and dearest. It's also a time when you can't avoid people who drive you up the wall. Sure, Aunt Katherine's hobby is criticizing people, your co-worker took credit for your fantastic idea, and the PTA is run by that mean girl from high school - but you have to make nice because if you don't, you'll be RUINING THE HOLIDAYS (gag).
It's times like these when I like to use fashion as a weapon. I just love an outfit that says, "I'm way too stylish to care about what a miserable jerk you are." You have to make it look effortless, so you should rely on versatile pieces instead of something over the top. 
The Amazing Print
So many women are afraid to wear prints. They're afraid a print will make them look bigger (which it won't), and they've been traumatized by some of the hideous prints plus size women have been subjected to over the years.

The result is that wearing a print makes you exude confidence. All you have to do is pick a print that is dominated by colors that flatter your complexion and looks pretty to you. It doesn't matter if you go with a small, subtle pattern or a bold one - either one will work on your frame.
The Statement Jacket

I'm including capes, dusters, and sheer toppers here. We're talking about the sort of thing you can throw on over anything, and boom - you're wearing a LOOK. The power of this outfit lies in how effortless it is. Mere mortals marvel at women who can look that good without trying. 


The Stunning Color

I'm talking about colors that draw you in the second you see them. If you think a color is compelling while you're shopping, it's going to have an even greater impact on you. For a revenge outfit, you're going to want to go monochromatic.
Most Vikki Vi Classics fit the bill thanks to the material. The spandex takes dye differently than the acetate, which adds depth and complexity. At the moment, we're loving Sugar Plum, Merlot, and Black.

The Twinset

Parties aren't the only situations that call for revenge outfits. A twinset conveys wealth, class, and competence. A woman in a twinset rules the neighborhood association with an iron fist. This is the outfit to reach for when you want to show someone that they haven't ruffled your feathers.
The Navy Look

Navy exudes authority and capability. It references military uniforms even in soft, feminine styles. This is a great revenge outfit for the office. When you get that promotion your work nemesis tried to steal out from under you, wearing Navy is how you can rub their face in your triumph.


The Power of Revenge Outfits

A revenge outfit tells people that you're above all the drama - even when you've been ranting about the drama for days. It's part intimidation and part confidence boosting. When you look fierce, you feel fierce.
Even if you're not thrilled to be in the same room as the guy who broke your heart when you were fifteen, you'll quickly forget about all that thanks to all the compliments your outfit will get.