Wearing the Right Color for Your Complexion
Posted by Jen Anderson on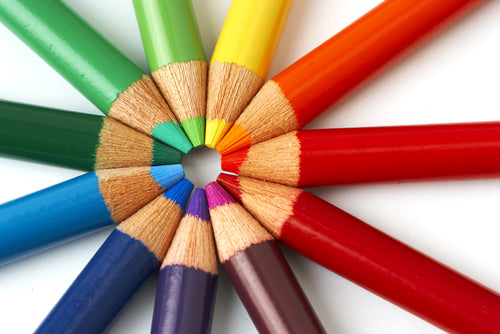 Some colors make me look like I haven't slept in a week. Other colors make me look like I've just left the makeup trailer and I'm ready for my close up. Knowing which colors are my friends has saved me from wasting loads of cash on clothes I'll never wear.
There's an easy rule of thumb for knowing which colors make your complexion glow. Look right past your thumb to the inside of your wrist. Do your veins look blue or green? Blue means that your skin has pink undertones and you look best in cool colors. Green means that your skin has yellow undertones (yellow + blue = green), so you look great in warm colors.
Cool colors are purple, blue and green. Warm colors include yellow, orange and red. But there's more to it than that. Look at those colored pencils. See that yellowish green right next to yellow? And that reddish purple between red and purple? Those colors exist in a sort of gray area (pardon the expression). You can count those shades as warm colors or cool since they combine both types of color. 

This is more exciting news for Warm Gals than Cool. Cool Ladies can already wear green and purple, so it doesn't really affect their shopping choices. But for Warm Women who want to throw on some green or purple, this means they can wear certain shades of those colors.
Breaking the Rules
As always, wear whatever you want. I certainly do. My closet is full of blues and purples. But I also wear an orangey-brown top. Maybe it's brown enough to be a neutral. Or perhaps the low wrap neckline keeps the color away from my face. Or maybe I look awful in it and no one has bothered to tell me.

Neutrals also provide a little wiggle room. If you like pink, but wear cool colors, then Blush can let you bring some pink into your outfits. And neutrals can tone down the effects of a color that doesn't usually look great on you. A Royal Blue Sleeveless Shell is decidedly cool. But throw a Mink Mandarin Jacket on over it and it'll look fine against a warm complexion. That's because the neutral Mink is closer to the face than the cool blue. 
(Speaking of neutrals, beware of anything too close to your skin tone. It can just look "off". Blush is a perfect example of this. On darker skinned women, it looks pink and lovely. On paler skin, it doesn't really zing.)
Accessories can really help you expand your color choices. A big purple pin or necklace is going to look lovely on a woman in warm colors. 

Sometimes you just have to try something on. I used to have a red dress that got me nothing but compliments. I think it worked on my cool complexion because it was covered in silver sparkly things. Silver is a cool color, while gold is a warm one.

Some prints have more cool colors than warm - or the other way around. So categorize them based on the dominant colors.
You're Not in a Rut
It used to be that every few years, I'd look at my closet and decide that I was being boring. Or too cautious. I'd wonder why I owned so many blue and purple clothes. And then I'd buy a yellow top that would stay in a drawer until everything else I owned was in the laundry.

You wouldn't think your wardrobe was boring if you owned half a dozen 3/4 Sleeve Cardigans. If that style looks and feels good on you, then you should stick with it. Don't think you're doing anything wrong if those cardis are all on one side of the color wheel (plus neutrals).

Never apologize for knowing what you want.