What Size Vikki Vi Should I Order
Posted by Danielle Malconian on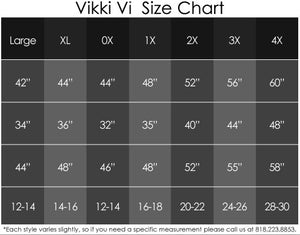 One of the most difficult decisions to make about your online purchase is what size to order. If you haven't purchased Vikki Vi in the past. Or even if you have something from years ago that you are trying to replace, just remember that Vikki Vi is very generously sized. The frabric is all stretch and the patterns are made for a full plus size figure. The size chart shown is an excellent guide. Take a few measurements, especially at your bust and hips to determine what size should work best for you. 
We do carry three lengths in our Classic Pull-On Pant.  The petite length is 28", regular length is 30" and tall is 32".  The length is measured from the crotch to the hem. There is also a little difference in the rise which is the measurement from the waist to the crotch. Purchase the smaller pant if you are in between sizes. 
Wash your Vikki Vi in cold water and try to lay flat to dry. The fabric is even more stretchy when wet and tends to grow if hung to dry. Store your Vikki Vi rolled if possible. Excessive  closet hanging will also make the clothing grow longer. 
Because we use the highest quality fabric for Vikki Vi Classics, you can expect these styles to last for years if cared for properly.  I hope you enjoy your Vikki Vi!