Why A Cruise Is The Perfect Plus Size Vacation
Posted by Jen Anderson on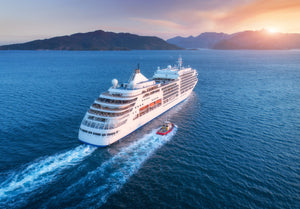 I haven't been on a cruise since the 80s. Not that I didn't enjoy all the food, sun, and disco dancing. But I get claustrophobic just thinking about the teeny bathrooms and narrow halls. I'm a lot bigger now than I was back then. Plus my extended family enjoys cruises so much that any cruise I took would turn into a family reunion. I don't care how much your family gets along, no one should spend an entire week with that many relatives without an exit strategy. There are only so many times you can fake sea sickness.
Cruise ships are lot bigger these days. So big that passengers don't feel the ship's movement. Which is great for not getting queasy, but not so great if you're trying to escape hearing about Aunt Sadie's cat's surgery.

It turns out that everything I thought I knew about cruises is wrong. Alert the media and my mother - I don't know everything after all.

If you can get aboard without 20 of your best and dearest inviting themselves along, cruises are perfect vacations for plus size people.

Practical Considerations

Many modern cruise ships feature wide hallways and hotel-like rooms. You can even get a decent-sized bathroom. (If not, the ship's many pools and spas should have roomy showers that you can use instead.) Armless chairs are available in the dining areas, even when they're not standard. 

You should research the exact ship before booking, and there's loads of information online to help you pick the right ship for you. With land-locked vacations, there are a lot of places you'll need to research (public transportation, museums, restaurants, etc.) and you may not be able to find what you need. If you've ever requested an armless chair at a restaurant that's never heard of such a thing, you can see the advantages of spending most of your vacation on a ship.
Social Considerations

People can be the absolute worst, especially when traveling. Planes and public transportation are cramped, and this is somehow the fault of plus size people. Discomfort brings out the worst in people. Since cruise ships are a lot more spacious, this isn't an issue. Just one less stressor you have to deal with.

Sartorial Considerations

Caftans are practically made for tropical cruises. They're great for luxuriating on a deck chair, visiting a buffet, and strolling to the spa. For warm weather, I recommend our Jersey Classics and Prints. For cooler destinations, go with Vikki Vi Classics.

Sheer toppers and kimono robes are great for dinner, hitting the casino, and taking in a show. Use them to dress up a simple daytime outfit so you can make do with a capsule wardrobe. 
I've discussed plus size cruise wear in depth in an earlier post, so be sure to check that out.
Convinced Yet?
Onboard activities are a lot more varied than I ever imagined. In addition to the usual fun-in-the-sun sporty activities, some ships have mixology classes, crafting lessons, art auctions, and libraries. All the excuses you need to get away when you've been enjoying too much togetherness with Cousin Clem.