How To Take A Plus Size Dress From Casual to Formal
Posted by Jen Anderson on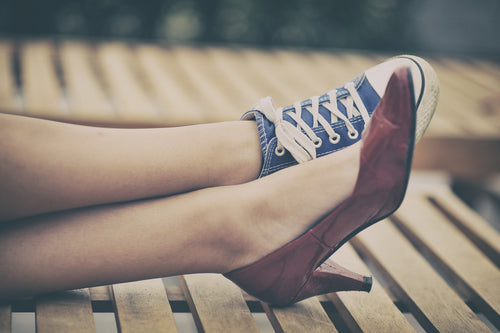 I'm always blathering on about how versatile dresses can be dressy or casual depending on the accessories. Dress it up! Dress it down! That can sound like vague and useless advice if you don't have a ridiculous amount of accessories like I do. So let's talk details.
The Base
Clean, unembellished clothes are the most versatile. A sequined dress just doesn't lend itself to different looks the way a wardrobe basic does. I'm thinking of the Maxi Tank Dress, Jewel Neckline Maxi Dress, and 3/4 Sleeve A Line Dress. But it doesn't have to be a dress. It can be Pull On Pants or a Skirt with a matching Shell or Deep Scoop Neck Top. 

A look like this isn't blah on its own. Good quality fabric drapes and moves in a way that lets you be the focus of the outfit. Add simple jewelry and ballet flats and you've got yourself an outfit.

The Extras

Even I think my collection of accessories is a bit much until I reach into a drawer and pull out the perfect scarf or vintage handbag. You don't need to develop an obsession like mine. Even people who hate shopping can amass a small stockpile of accessories that can take a dress from casual to formal. Especially people who hate shopping - when you own a few hero pieces you can get dressed for anything without a fuss.
I'm going to focus on jackets here because they have a lot of visual impact. Pick the jacket first and then select shoes and jewelry and so on based on the vibe the jacket is sending out.

Casual

A denim jacket is a great way to make your dress casual. But that's not your only option. A Boyfriend Cardigan or 3/4 Sleeve Cardigan can also create a relaxed look. 

Fancy Casual

This could be a little get together at a friend's house, the company picnic, or lunch at a restaurant with the gals. I'd go with prints here. A 3/4 Sleeve Cardigan or Kimono Jacket in a print can add just the right amount of fancy.
Casual Fancy

Date night, brunch, and the Bridgewood's annual holiday bash at their house call for outfits that are leaning towards formal, but not all the way there. A Sheer Cardigan is a great choice here. I'm also thinking the Swing Vest and Kimono Duster fit into this category. A print Kimono Robe can also work here.

Formal

Pretty much any event with a caterer requires you to be dressed to the nines - fundraisers, retirement parties, weddings, a company party at a museum, etc. For these, I love something bold like a print Kimono Robe or a sparkly Cardigan or Jacket.
Fill In The Blanks
You probably already own several Swing Cardigans and Kimono Jackets, a smattering of costume jewelry, a clutch purse you got for your cousin's wedding, and so on. So the first thing you need to do is assess your needs. Maybe you could use a lightweight cropped denim jacket to build a casual look. Or a kimono robe for fancy occasions. Figure out what you need and then keep an eye out for those things.
Or you can snap up anything that takes your breath away without breaking the bank like I do.
3 Comments