What You Need To Know About Plus Size Bra Shopping
Posted by Jen Anderson on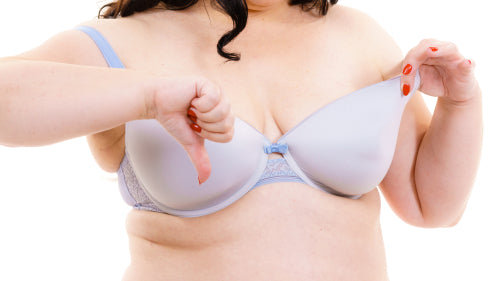 A bra can make or break an outfit. A good bra gives you support, doesn't dig into your skin, and gives fabric something to drape off of. An ill-fitting or worn out bra makes itself known - your clothes show every spot where it's digging into you.
The Difference Is Fit
You don't need to spend $300 on a bra, or even $100. What you need is a bra that fits you properly, and that means a band that's not too tight or too loose, and cups that are just big enough for your girls.
But when you're plus size, you may not be able to find bras big enough for you at your local department store. I try to go to a speciality shop - a boutique with "bra," "lingerie," or "corset" in the name will have ample stock and knowledgeable staff. My local shop has bras with bands up to 52 inches.
How To Try On A Bra
Whether you're shopping at a specialty store or ordering a bunch of bras online to try on at home, how you put it on influences how it fits. It doesn't matter if you close your bra by reaching behind your back or by closing the hooks in front and then moving into place. Once you've got the girls locked, you need to get them loaded.
Bend forward at the waist to get your boobs settled in the cups. When you straighten up, perform the scoop and swoop maneuver. Reach into the cup with your opposite hand (right hand for left boob and so on), scoop up your breast, and swoop it into place (up and towards your sternum). Now your breasts are properly set in the cups, and you can adjust the straps to see if the bra fits you well or not.
The final test is to see how the bra looks under your clothes. Put on a tee in a light fabric (like our jersey knit) to see if it's digging into you.
Not Every Bra Style Is For You
Your breasts are not weirdly shaped. What's weird is that breasts come in many different shapes yet none of us seem to know this. Whether it's an actress doing a nude scene in a movie or an illustrated guide to breast self-exams, you're going to see round, perky boobs with centrally located nipples. Fortunately, bras are designed with several shapes in mind.
If you can't find a bra that fits you well, it may be that you're trying on the wrong style for you. A bra shop employee or a website customer service rep can point you in the right direction.

Bra Extenders Are Bad - Except When They're Perfect

If you gain weight, a bra extender will make your bra band fit better - but if your band is too small, the cups are probably too small too. You're better off with a new bra.

But they may come in handy with brand new bras. The cups on a 44D and a 42D aren't the same. Because of how bras are sized, the cups on a 44C may be the same size as the 42D cups. But maybe that bra doesn't come in a 44C. Add an extender to the 42D and you'll get the right fit.
Plus Size Bras Aren't Cheap
But you don't need that many of them. You don't have to wash them after each wearing. (I can't even tell you how life changing that information was for me.) Two or three should be enough. Just don't wear the same bra two days in a row to give the elastic a rest. That elastic is also why you never put a bra in the dryer.
Yes, bra shopping can be a hassle but it's basic self care/body maintenance. It's so worth the effort.