Style Tips for Hourglass Shaped Women
Posted by Jen Anderson on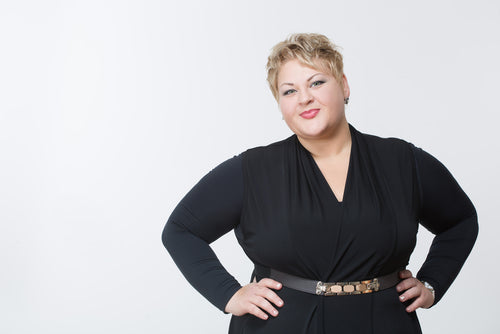 It is absolutely possible to be plus size and have an hourglass shaped body. Since hourglass is considered to be the ideal shape, most clothes are designed to look good on your body. But there are still a few things you need to consider when getting dressed.
If you're hourglass shaped, you're voluptuous as all get out. Almost everything you wear is going to be a little va-va-voom. When the situation calls for it (date night, your ex's wedding, your class reunion) lean into the look. Break out the red shoes and red lipstick. You got this. 
When you want a more serious look, just show a little less skin and keep the accessories subtle. Don't try to hide your shape or yourself when you want to look smart instead of sexy.
Belts
Your waist is markedly smaller than your bust and hips, so you can wear belts every day of the week. In fact, you should. A belt will ensure that your outfit fits you properly by reining in any excess fabric at the waist.

Plus size belts are a lot easier to find online than in stores. You can even order custom made belts from several sources (including etsy).

Be mindful of whether you're long waisted or short waisted (or neither). If you're short waisted, a wide belt will be uncomfortable and will look more like a corset than a belt. If you're long waisted, a narrow belt may not stay in place as easily as a wide one.
Never cinch your belt so that it looks tight. It'll look (and feel) too small. 

Necklines

Plus size hourglass shaped women tend to be a bit busty. When you show a little skin around the neck, you visually break up your chest so it doesn't look like one giant expanse of fabric. When you want to cover up, add a jacket or other top layer with a different neckline for the same effect.

Square, scoop neck and v necklines are your best friends.
Jackets
You want to wear jackets that don't hide your waist, but that doesn't mean you need to avoid jackets that aren't tailored. If you want to rock one of Vikki Vi's Kimono Jackets or Cascading Scarf Hi-Lo Jackets, just wear it over something belted. Our Blazer, with its shape-defining princess seaming should be one of your go-to pieces.

Skirts, Dresses, Pants and Tops

Pretty much anything goes for the plus size hourglass shaped woman. If you want to wear a dress without a defined waist like Vikki Vi's Maxi Tank Dress, just add a belt. (Or don't if you're not in the mood to accentuate your curves.)
A pencil skirt, like Vikki Vi's Flip Skirt looks amazing on hourglass shaped women. And they fit perfectly.

Don't be afraid to tuck your tops into your skirts and pants. You have the proportions to look and feel comfortable in that look.

Is There Anything You Can't Wear?

Like anyone else, you need to stick with the colors that look best with your skin tone. Anything boxy and oversized is not your best look - the 1980s were a rough time for hourglass-shaped women. Besides that, just wear whichever styles speak to you and don't forget the belts.