The Plus Size Guide to Surviving Hot Flashes
Posted by Jen Anderson on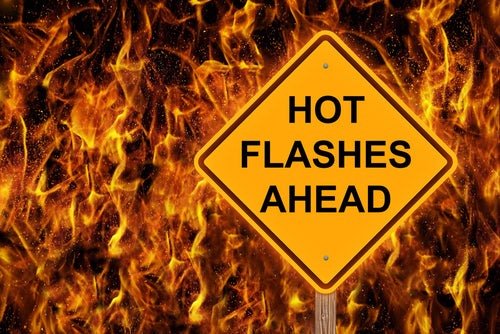 I've got one word for you, ladies: breathable. That may make you think of wrinkly, high maintenance fabrics, but that's not the case anymore. The things they're doing with synthetics these days are amazing.
First up, a friendly reminder that I'm not a doctor and I have no idea if any medical interventions are the right choice for you. I'm just another sweaty gal trying to ride this thing out. Hot flashes are just one of many surprising and not-at-all-fun aspects of perimenopause. I'm only going to talk about hot flashes here since that's the only one that can be addressed with clothes. (Though I will suggest that you watch a few YouTube videos about facial hair removal if that's something you're dealing with.)
OK, so hot flashes. Your hormones trick your body into thinking you're overheated, and so you start sweating because that's what your body does so that you don't die from being too hot (or something - not a doctor). I found hot flashes hilarious for the first few months, but that didn't last. So I looked into how I could make them more tolerable.
Night Sweats? No Problem
Night sweats are just hot flashes that happen when you're trying to sleep. They wake you up and then you're exhausted the next day. Your mileage may vary, but I haven't been awoken by night sweats since I got moisture wicking pajamas. The fabric wicks the sweat away from my skin and I sleep right through it. The loose, flowy design also helps here.
You can buy PJs specifically designed for this, or you can go with something in a fabric that just happens to be moisture wicking - like bamboo, modal, or Ralmtex. Ralmtex is also made to regulate your body temperature. We have a few pieces in that are perfect for this. They aren't strictly sleepwear, but they're comfortable enough to sleep in. The very first time I wore one of our Ralmtex Sleep Kaftans, I had a hot flash, but didn't feel icky at all. 
Moisture wicking sheets are also a thing. I haven't tried them, but I've heard good things.
Daytime Hot Flashes
This is where breathability and flowiness really come into play. The loungewear we carry is great for hot days and hot flashes - while also being stylish enough to wear when you're not lounging around. Yes, you can sleep in them and they'll soon become your favorite thing to wear on the couch, but you can also incorporate them into your everyday wardrobe.
As far as non-loungewear is concerned, you want flowy but not oversized or baggy. Our classics fit the bill, and I'm going to take this opportunity to plug one of my personal faves -
wide leg pants
.
Or you can narrow your attack. A hot flash can make you sweat all over, but your armpits and underboob area will sweat the most. If you can't find a moisture wicking bra, then you can slip a moisture wicking bra liner underneath your bra band. As for your pits, disposable armpit liners (aka dress shields) can help you out there.
When you're hanging out at home or getting ready in the morning, you can wear the Ta Ta Towel. It's not supportive like a bra, but it offers similar coverage. The fabric absorbs your underboob sweat before you even notice it's there.
Hang In There
Perimenopause doesn't last forever. It can be over in a few months, or could last as long as a decade. Which is horrifying, but all the more reason to arm yourself with clothes that can make it more tolerable.
1 Comment