The Plus Size Guide to Inauguration Fashion
Posted by Jen Anderson on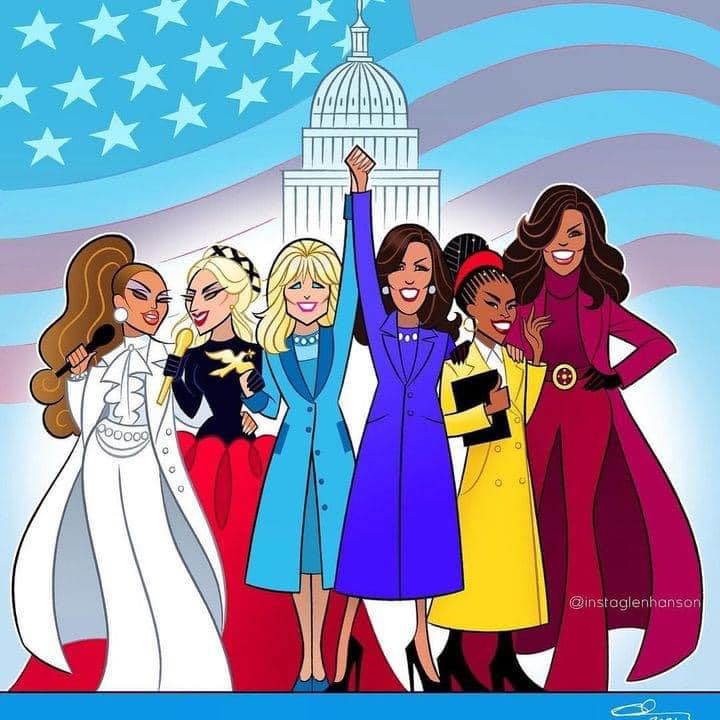 You might not think that a fashionista like myself would be excited about the Presidential Inauguration, but a week later I still haven't come down from the high. The coats! The dresses! The suits!
There's something special about Washington D.C. style. It's more accessible, more practical than the looks we see on the runway and red carpets. We can imagine ourselves wearing those outfits. Even performers like Jennifer Lopez and Lady Gaga dial it back at these sorts of events. 
Of course, for plus size women, we can't always buy the exact pieces we admire but we can turn to these outfits for style inspiration.
The Colors!
The most memorable outfits stuck out because of the bold colors. No one was there to blend into the background. Even Jill BIden's light blue outfit was a confident shade. 
For the ceremony, Kamala Harris wore indigo and purple while Michele Obama and others wore plum. If you want to incorporate those colors into your wardrobe, check out our Indigo and Vino collections. 
Monochromatic looks were so popular that Lady Gaga's red and black gown seemed a bit boring and expected by comparison. JLo's head-to-toe white outfit was absolutely stunning. Vice President Harris wore all black to the Inaugural Ball. The monochromatic look is already popular with Vikki Vi customers, and now everyone else is getting on board.
But there was also some judicious mixing of colors. Poet laureate Amanda Gorman wore a bright red headband with a bold yellow coat, and the look was absolutely breathtaking. You can get an outfit in the same spirit as hers by mixing and matching pieces you already own.
Meanwhile, Katy Perry performed in a white gown adorned with red and blue buttons. It was a delightfully subtle interpretation of the American flag's red, white, and blue. We can imitate this look by wearing neutrals with just a touch of color.
The designers!
American, of course. Just like the red carpet at awards shows, Presidential Inaugurations bring a lot of publicity to the designers whose work you're admiring. Wearing American designers' clothes isn't just a patriotic statement. It boosts domestic industry. Buying clothes that are designed and made in America is great for the U.S. economy.  Oh, and have I mentioned that Vikki Vi is designed and made in the U.S.A.?
The coats!
The women coordinated their coats with their outfits, which makes sense for an outdoors event. I'm strongly in favor of owning multiple jackets and coats. It gives you options for different types of weather and events, as well as letting you coordinate with your outfits. 
There's also something to be said for that one workhorse coat. You probably didn't even notice how many of them were at the Inauguration. I'm talking about the black dress coat. You'll get a lot of use out of a formal coat in a neutral color. Even if you only wear it a couple of times a year, it's well worth having for weddings, funerals, and Presidential Inaugurations. 
The masks!
Most of the major players at the Inauguration either wore black masks, or masks that matched their outfits. The formal masks did more than just not take away from the outfits. They enhanced them. The best outfits are the ones that are intentional and thoughtful, so the deliberate mask choices elevated the looks. 
Inspiration is Everywhere
Whenever you see an outfit you absolutely love, think about what exactly is speaking to you so that you can interpret it in a way that works for you.
1 Comment