Plus Size Travel Essentials
Posted by Jen Anderson on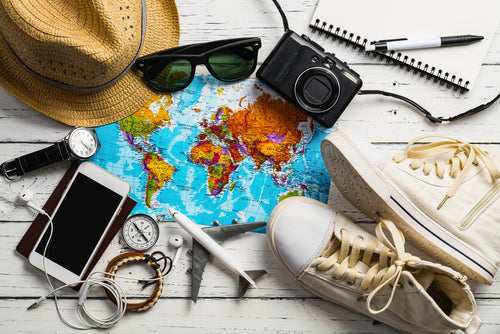 Everything is easier when you have the right gear. That's why I own four types of spatula, and at least five types of knitting needle. It's also why I have a vast collection of small, refillable toiletry bottles. (Take that, Marie Kondo.) Travel is stressful for everyone. Add to that all the issues we encounter as plus size women and you start to wonder if maybe you should just stay home. But with the right equipment, you'll be looking for excuses to get out of town.
The Right Handbag
If you commute via public transportation, you already know the power of the purse. I'm all about the pockets. When everything has its place, you can find it without looking. It's a lot easier to ignore the haters when I can pull out my passport, ticket, lip balm, or cough drops in seconds.

I've finally accepted that the perfect handbag doesn't exist. At least not within my budget. Instead, I go for the cute tote/market bag and use a purse organizer to supplement the bag's built in pockets. (Google "purse organizer" to see the various styles. Everyone has slightly different needs and tastes, so I'm not going to link to any specific products or retailers here. In every case, an online search will point you in the right direction.)
Safety First

If you're traveling by plane, you may need a seatbelt extender. Every plane should have a couple on hand and you only need to ask the flight attendant. The original version of this post suggested buying your own seatbelt extender, but the FAA and airlines have been cracking down on this practice since quality can vary. It's a safety issue, so push aside your shyness and ask for one.

Protect Your Clothes

Packing cubes don't just look tidy. They keep your clothes rolled up neatly while you're on the go. They can help keep your clothes separate and protected from spills. They're also useful for separating dirty clothes from clean.
If you want your clothes to take up less space, then "travel space saver bags" are your friend. You roll your clothes, slip them in, close the bag and squeeze out the excess air. I've used them for years and they don't make your clothes any more wrinkled than when you packed them. If you check your luggage, you can use one of these bags to fit an outfit into your handbag in case your suitcase gets misdirected.

About Those Clothes

Thinking strategically about your wardrobe is one of the most important aspects of enjoyable plus size travel. Every piece needs to be comfortable, stylish, and disinclined to wrinkle if you look at it funny.
Vikki Vi Classics meet all my criteria. We keep hearing from women who travel with a suitcase full of Classics and nothing else. Business trips and vacations call for different accessories, but the main pieces can be the same. For business travel, you may want to pack a Blazer or two. For vacation, add a sheer topper, duster, or cardigan. 

No, Seriously

Yes. I am telling you to wear your Vikki Vi Crop Pants while your friends will be in shorts. At the start of the day, they may comment on how dressy you look. After their waistbands and short hems have been digging into them all day, they'll be commenting on how comfortable you look.
Shop Classics to add to your travel wardrobe.
2 Comments