Plus Size Style Icon: Miss Patty
Posted by Jen Anderson on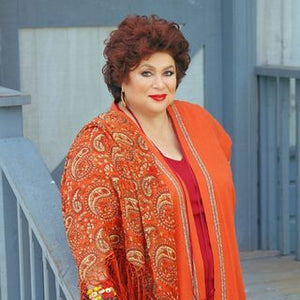 Some women are born stylish. The rest of us can study them, pick up a few ideas and incorporate their fabulousness into our own wardrobes. Lucky for us, some of them are plus size so they're working with roughly the same clothing options as we are.
For the first in this monthly series, we're starting with Miss Patty from the TV show Gilmore Girls. Who's Miss Patty? She runs the dance school in the small town of Stars Hollow, Connecticut. She's been married more times than she can count and she once danced in a cage for Tito Puente.
Miss Patty has lived life to the fullest and has no regrets. That includes her weight. As an ex-dancer, her figure isn't what it used to be. But that doesn't keep her from wearing bright clothes and ogling construction workers while wondering aloud if it's time to find herself another husband.
Dressing like Miss Patty sends the message that you know how to have fun, and will cover for someone when they've made an embarrassing drunken toast because you've so been there.

So what defines Miss Patty's style?
Colorful Prints
Miss Patty is the most colorful person in the room, and her clothes are no different. Bright, bold prints that would overwhelm a smaller frame look amazing on her.
If you're ready to get in touch with your inner diva, try the Modesce Irmy 2 Pocket Hi Lo Tunic or the Tianello Yuko Zen Robe, pictured below. If you're not quite as bold as Miss Patty, browse through our Tops and Jackets and you'll find several bold prints that are too restrained for her, but may be just right for you. 
Volume
Miss Patty doesn't dress to make herself look smaller. Why would she? She's got a larger than lifesize personality. She'd take up lots of space even if she were still dancer thin. She wears loose-fitting tops that drape &swing around her body - perfect for sweeping into a room dramatically to make an entrance.
Patty would be right at home in the Vikki Vi Monet Sheer Swing Cardigan and the Greensewn Peridot Dream Kimono Duster (pictured below). 
Animal Prints
Most of us wear animal prints when we want a little extra va-va-voom. Miss Patty wears animal print on a plain old Wednesday because va-va-voom is her default setting.  
Try everyday animal print pieces like the Vikki Vi Jersey Ocelot Shark Bite Tunic and the Caribe Gray Animal Swing Cardigan (pictured below).
Be A Style Icon
For too long, plus size women have been told to dress in a way that makes us look smaller. No stripes, no bright colors, slimming cuts. Not only has that failed to make any of us look thinner, but it's also tricked us into thinking that looking small is a worthy goal. Why not be the center of attention, taking up lots of room as we talk with our hands? Why hide one tiny bit of our fabulousness? 
Try dressing like Miss Patty, even if it means stepping outside of your comfort zone. You just might inspire someone else.