One Dress, Five Holiday Parties
Posted by Jen Anderson on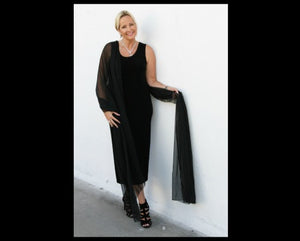 Not even the most dedicated fashionista wants to buy a new dress for every holiday party they're attending. Besides, who has the time when you're going to and recovering from all those parties?
We're all about versatile wardrobe classics that you can wear again and again - plus a few colorful pieces that make any outfit fabulous. In theory, you could pick one holiday party outfit to wear to all your parties. In reality, you're going to be seeing some of the same people at different parties. You'll get bored wearing the same dress/accessories combo and your friends' compliments will get less enthusiastic as the season wears on.
Let's pick one piece you probably already have - a basic black dress - and style it for 5 different parties using pieces that you can wear again when the holidays are over.
The Office Party
This kind of party is work. The big bosses are there, noticing everything.  You spend all year making management recognize your skills and now you want to reinforce their impression of you.

If you're there as a plus one, you really want to go with an understated look.

For the Office Party, focus on accessories. Wear your dress with bold statement jewelry and matching shoes. You'll blend into the crowd, but your personality will shine when people get close.
The Casual Friends Party
This is the opposite of the office party. It's time to kick back, relax and catch up with your best and dearest. Wear your dress with flats or low heels to make mingling more comfortable. Top it off with a bright, colorful print jacket like the Vikki Vi Monet Sheer Swing Cardigan. 

After the holidays, you can wear this jacket to parties throughout the year. Wear it over jeans and a tee to add some style to your errands. It works for date night and girls' night out. Throw it on when your mood needs a lift. 
The Family Party
This is probably the most aggressively festive party of the season. Family parties are all about tradition. The same guests, the same food, the same decorations - it sounds boring, but it's super comforting. It's a hectic season, but you know that Uncle Matt will be in the kitchen carving the roast, the cousins will kiss every single person hello and goodbye, and there will be children everywhere.

Embrace the kitch and break out the snowman earrings your mom gave you last year. For a pop of classic color, wear a bold solid like Vikki Vi's Rumba Red Long Kimono Jacket. It's dramatic enough for a party, but classic enough for the office.
The Party Where You Hardly Know Anyone
This may be a casual friend get together, or a family party when you're a friend of the host (soon to be friend of the family). Maybe it's connected to your kids' school or your partner's antique car club. 

Some people thrive at these parties and others would rather stay home. But approach it as a chance to make a first impression - you're going to that party to spend time with your new favorite people. So prepare a few conversation starters and wear something bold, like a Greensewn Dream Kimono. Take some fashion risks - you may never see these people again.

When the party's over, wear your kimono to dress up even your most casual outfits. Silk keeps you warm without being bulky, and feels luxurious. The real question is when won't you wear this jacket?
New Year's Eve
It's time to sparkle. If you've got jacket fatigue by this point, you can imitate Katherine Hepburn in Holiday by wearing your black dress with a pretty scarf held in place by a rhinestone brooch - the bigger, the better. 

Or throw on something sparkly like Vikki Vi's Bronze Goddess Cascading Scarf Hi-Lo Jacket. Wear it again to your Oscar party, even if that means snacks on the couch.





Whew!
That's a lot of clothes. But unlike 5 different party dresses, you'll be able to wear these pieces all year round. You may already own a few pieces like this and just need a few to fill out your wardrobe.