Plus Size Spring Wedding Guest Outfits
Posted by Jen Anderson on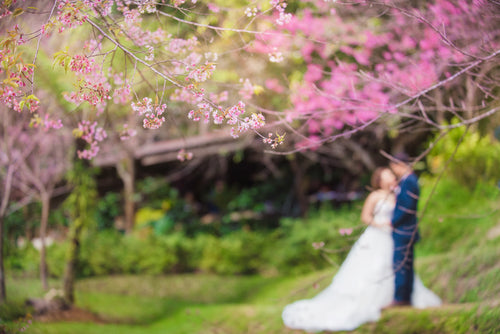 It can be difficult to figure out what to wear to a Spring wedding because you can't be sure about the weather until the big day. And even then it may be a bit touch and go. When a couple has their heart set on an outdoor ceremony, rain showers, gusty wind, or high pollen counts may not get in their way. Even if the ceremony and reception are indoors, you'll have to deal with all that nature on your way in. 
Your Spring Wedding Guest Outfit Should Be Ready For Anything

Machine washable fabrics are best because they won't get ruined if you get caught in one of those April showers that start in March and last well into May. Pollen comes out easily in the washing machine, so you'll be able to wear those clothes again soon. 

You'll want shoes that can handle the damp - this is not the occasion for those adorable suede booties you've been dying to show off. Sandals may seem like a good choice but if they get wet, you'll slip with every step. 

Layers Are Your Friend

Will it be chilly? Unseasonably warm? You just can't tell with Spring. A Kimono Jacket, Swing Cardigan, or Shawl Jacket can make your outfit appropriate regardless of the temperature. If you're shy about showing your upper arms, wear a Short Sleeve Tunic under your top layer instead of a Sleeveless Shell.
Be Camera Ready
Don't spend the entire reception hiding from the photographer. The happy couple doesn't only want photos of tacky cousin Shiela spilling her drink on the flower girl. Professionals are going to take much better pictures than your brother-in-law Milton who ruins every party by trying to take candids while everyone is eating. 
We've discussed this before, but remember to stand up straight (no scrunching in tight) and in the name of all that is good and fashionable, do not say "cheese." It forces a weird, unnatural grimace on your face. If you must say something, say, "hi," or, "happy wedding!"

And you know what looks great on camera? Bright colors and prints. Spring in an exuberant season, so don't be shy. 

Let's Talk Specifics

The Maxi Tank Dress is a popular choice for special occasions, Spring weddings included. If you take different sizes on the top and bottom, then separates can give you the same look without any alterations. A Sleeveless Shell or Short Sleeve Tunic paired with a matching Maxi Skirt (Straight or A-Line) create the same visual effect. 

Or...and just hear me out...you could wear pants. It's just crazy enough to work. I love Palazzo Pants for formal occasions, and Pull On Pants are certainly fancy enough for a wedding. 
Focus On Enjoying Yourself
Once you have your outfit sorted out, you can relax and think about the actual wedding. If your family is scattered geographically, you can look forward to a mini family reunion. Make plans to visit with the other guests while you (or they) are in town. Weddings are celebrations, so don't forget to have a great time.
Check out our other posts about plus size wedding guest dresses.