Plus Size Party Hostess Outfits
Posted by Jen Anderson on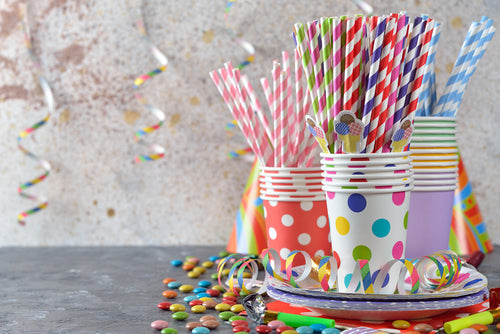 The more parties you throw, the easier it gets. You learn to schedule party day down to the minute. You figure out what needs to go in the oven when, and which closets are best for stashing clutter. But your outfit can be an afterthought. Which is a bad idea because your party clothes have several jobs to do. Not just any outfit will do.
Your party hostess outfit needs to look fabulous, of course. You need to move freely so you can work in the kitchen as easily as you work the crowd. Too much excess fabric is asking for trouble - you could knock something over or get too close to a candle. And if you can skip shaving your legs, all the better.
Maybe a Caftan?

Besides being super comfortable, caftans were the quintessential hostess outfit of the 1970s. Women could work on party preparations until the last minute, then throw on a caftan and some makeup, and they'd be ready to party.

Alas, caftans have that excess fabric issue. Those sleeves can really get in the way. If you're having the party catered and there's plenty of room to mingle, a caftan is a great choice. Be sure to wear bold jewelry to balance out this bold look.

But if you're going anywhere near the stove during the party, you need something else.

What About a Topper?

A Statement Jacket, cape, or wrap takes center stage no matter what else you wear with it. So go basic and functional. Black Pants and a Black Shell make an excellent backdrop for a bold jacket.
Sure, a Sheer Topper or Duster has that excess fabric thing going on. But you can easily take it off to bustle around the kitchen and then slip it back on when you're done. Just find a place to put it where it won't get covered in dip.

For your backdrop clothes, you don't have to stick with black, or even with pants. A Maxi Tank Dress, Jewel Neckline Maxi Dress, Straight Maxi Skirt, or A-Line Maxi Skirt will cover your legs without getting in your way. As for color, just pick something that works with the topper you've chosen.

Is It Hot in Here?

Between ambient heat from the oven and your guests' body heat, your house is going to be warmer than you expected. So your ideal party hostess outfit might be from our Jersey Collection. Jersey is a lighter fabric than the material we use in the Classics, so it's better suited for warm weather and hot kitchens.
You could wear Jersey Pants and a Jersey Shell under a Sheer Topper. Our Jersey Maxi Dress and Faux Wrap Maxi Dress are great party looks in their own right.
Don't Forget to Enjoy Yourself
Being able to relax and enjoy your own party is another skill you develop with practice. The right outfit and comfortable shoes go a long way towards helping you become that effortlessly chic hostess you've always wanted to be.
Shop Toppers so you can be ready for your next party.
6 Comments